Wicked the Musical
Comments

6
261pages on
this wiki
Wicked the Musical is a broadway musical, based on the original book by Gregory Maguire. The show spotlights on the journey and friendship of the Wicked Witch of the West and Good Witch of the North. According to Broadway.com, Wicked shifts from being the first or second most grossing in New York and is first in West End.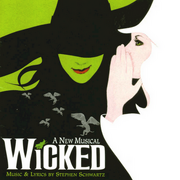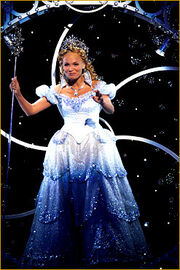 After the Overture, the citizens of Oz gather to celebrate the death of the Wicked Witch of the West ("No One Mourns the Wicked"). Glinda descends in her bubble to confirm the circumstances of the Witch's melting by Dorothy. The scene then shifts to a flashback of the birth of the green-skinned Elphaba Thropp. Elphaba suffers an unhappy childhood, facing discrimination because of her skin color and being raised only by her widowed father, the Governor of Munchkinland. At Shiz University, Elphaba first encounters Galinda, a spoiled and popular Uplander ("Dear Old Shiz"). Madame Morrible, the headmistress of Shiz, has decided that since Elphaba's younger sister, Nessarose, is in a wheelchair and the favorite daughter of Governor Thropp, it would be best for her to share Morrible's accommodations. No arrangements have been made for Elphaba, and Galinda accidentally offers to share her private suite. Elphaba is angry, as she has always looked after her sister. When Morrible tries to wheel Nessarose away, Elphaba uses her uncontrollable powers to bring her sister back to her. This impresses Morrible, who notes that Elphaba's talents may be of use to the Wizard of Oz ("The Wizard and I") which used to be Making Good ;she promises to give Elphaba private sorcery lessons. Galinda is jealous and takes an immediate dislike to Elphaba; Elphaba takes a similar dislike to Galinda ("What Is This Feeling?").

Doctor Dillamond, a Goat and Shiz University's only Animal professor, is teaching history class when it is interrupted by an anti-Animal slogan on the back of his blackboard. After dismissing the class, he confides in Elphaba that something is causing the Animals of Oz to lose their powers of speech ("Something Bad").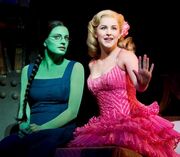 Fiyero, a Winkie prince, arrives at Shiz and immediately impresses his own brand of cavalier, carefree living on the students, organizing a party at a local ballroom. While preparing for the dance, Galinda discovers a black pointed hat in a box. Knowing that the hat is hideous, she gives it to Elphaba, who is under the impression that it is a present. Galinda convinces a Munchkin student named Boq to take Nessarose to the party, more to avoid unwanted attention from Boq than out of any desire to be kind. Nessa has a crush on Boq and is so overjoyed to be invited that she asks Elphaba if there is any way to repay what she perceives as Galinda's kindness. At the dance, Galinda is surprised by the appearance of Morrible, who gives her a training wand and tells her that Elphaba insisted she be included in the sorcery seminar. Elphaba arrives wearing the hat Galinda had given her, only to be ridiculed and laughed at. Nevertheless, she defiantly proceeds to dance alone without any music. Feeling guilty, Galinda joins Elphaba on the dance floor ("Dancing Through Life") which used to be Which Way Is The Party, marking the start of a new friendship between the two. After the dance, Galinda and Elphaba talk in their room. Elphaba reveals that her father hates her because of her green skin and that he had forced her mother to eat milk flowers to ensure that Nessarose was not born the same. The milk flowers caused Nessa to be born early, crippling her, and their mother had died in childbirth. Moved by a desire to help her new friend, Galinda decides to give Elphaba a makeover and to make her popular ("Popular").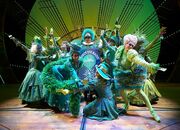 The next day, evil Ozian officials take Doctor Dillamond away. The new history teacher arrives with a frightened lion cub in a cage, revealing that Animals that are kept in cages will never learn to speak. Outraged, Elphaba casts a spell that causes everyone (except for Fiyero) to go into involuntary gyrations. Together, Elphaba and Fiyero steal the cub and set it free in the woods. There is a hint of romance between the two, but Fiyero leaves, embarrassed. It begins raining, and Elphaba takes refuge under a bridge and regrets that it would be impossible for someone like Fiyero to love someone like her ("I'm Not That Girl"). Madame Morrible finds Elphaba and announces that she has been granted an audience with the Wizard. At the train station, Galinda and Fiyero see Elphaba off to the Emerald City. Galinda complains to Elphaba that Fiyero's affections toward her seem to be waning. In an attempt to impress him, Galinda announces that she will change her name to "Glinda" in honor of Doctor Dillamond's persistent mispronunciation. Fiyero does not appear to notice and, feeling bad for Glinda, Elphaba invites her along to see the Wizard.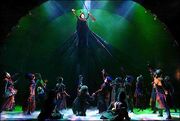 After a day of sightseeing in the Emerald City ("One Short Day"), Elphaba and Glinda meet the Wizard. He immediately reveals his true self to them and invites Elphaba to join him as his personal assistant ("A Sentimental Man"). As a test, he asks that she give his Monkey servant, Chistery, the ability to fly using the Grimmerie, an ancient book of spells. Elphaba demonstrates her innate magical talent and successfully gives Chistery wings. The Wizard reveals an entire cage full of monkeys who now also have wings because of Elphaba's spell, and remarks that they will make good spies to report any subversive Animal activity. Realizing that she has been used and that the Wizard has no power of his own, Elphaba runs away with the Grimmerie, pursued by the palace guards.Elphaba and Glinda run into the tallest tower, where they witness Morrible, revealed to be the Wizard's press secretary, declaring to all of Oz that Elphaba is a "Wicked Witch" who is not to be trusted. Elphaba enchants a broomstick to levitate and tries to convince Glinda to join her in her cause, but Glinda refuses. Leaving behind the only friend she ever had, Elphaba rises into the sky on the broomstick, promising to fight the Wizard with all of her power. ("Defying Gravity").
Some time has passed, and Elphaba's exploits have earned her the title "The Wicked Witch of the West" ("No One Mourns the Wicked (Reprise)"). Glinda and Madame Morrible hold a press conference to announce Glinda's surprise engagement to Fiyero ("Thank Goodness").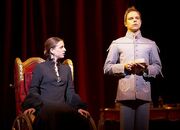 Meanwhile, Elphaba arrives at the governor's residence in Munchkinland seeking refuge, reluctantly trying to ask her father for help. But Nessa, now the governor of Munchkinland, harshly reveals that he died of shame due to Elphaba's actions at the Emerald City. Nessa refuses to help hide a fugitive, citing her status as an unelected official, and criticizes Elphaba for not using magic to help Nessa overcome her disability. To assuage her feelings of guilt, Elphaba enchants Nessa's jeweled shoes, turning them from silver to ruby red and enabling her to walk. Boq, who is now Nessa's servant, is summoned and reveals that a ball is being held for Glinda and Fiyero's engagement and he must go tell that his heart lies with Glinda. Furious, Nessa casts a mispronounced spell from the Grimmerie, causing Boq's heart to shrink. While Elphaba attempts to save him, Nessa reflects on how her obsession with Boq has led her to oppress the Munchkin people ("The Wicked Witch of the East"). Elphaba saves Boq by turning him into the Tin Woodman – horrified, Nessa lays the blame on Elphaba.
Elphaba returns to the Wizard's palace to free the rest of the winged monkeys. The Wizard attempts to regain her favor by agreeing to set them free ("Wonderful"). Upon discovering a now-speechless Doctor Dillamond among the monkeys, Elphaba rejects his offer and attempts to escape, running into Fiyero in the process. Confirming his true love for Elphaba, he runs off with her. Glinda sees this and is crestfallen that she has been betrayed by those closest to her ("I'm Not That Girl (Reprise)"). Glinda, hurt and furious by Elphaba's betrayal, suggests to Madame Morrible to endanger Nessa, a surefire way to lure Elphaba into a trap. Madame Morrible agrees and creates a cyclone to put Nessa in danger. Glinda, on the other hand, is oblivious to the fact that Madame Morrible is actually trying to harm Nessa.In a dark forest, Fiyero and Elphaba express their passionate love ("As Long as You're Mine") but are interrupted when Elphaba senses that her sister is in danger. She flies off to help but is too late, arriving just after Dorothy's house has landed on Nessa, killing her. Elphaba becomes frustrated and confronts Glinda for giving Nessa's shoes to Dorothy, and a fight ensues. The palace guards arrive and grab Elphaba, but Fiyero intervenes and he tells the guards to let her go, allowing Elphaba to escape before surrendering himself. The guards take him to a nearby cornfield to be tortured until he tells them where Elphaba has fled. At one of Fiyero's castles, Elphaba tries to cast a spell to save Fiyero's life but, thinking she has failed, she begins to accept her notorious reputation as "wicked" ("No Good Deed").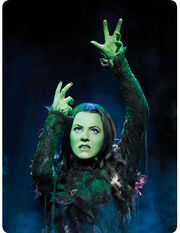 Meanwhile, Boq and the citizens of Oz prepare a witch-hunt ("March of the Witch Hunters"); Boq claims that Elphaba turned him into the Tin Woodman as an act of evil, while the lion cub that Elphaba and Fiyero freed at Shiz is also at the gathering and turns out to be the "Cowardly" Lion. His cowardice is blamed on Elphaba, because "if she had let him fight his own battles when he was young", he wouldn't be so fearful to that day. Seeing the witch-hunt, Glinda realizes that Madame Morrible was behind Nessa's death. But the mad press secretary reminds her that she wanted this in the first place and tells her to "smile and wave and shut up!". Glinda travels to Elphaba and Fiyero's castle to persuade her to let Dorothy go, but she refuses. Elphaba makes Glinda promise not to clear her name and to take charge in Oz. She agrees, and the two confirm a true friendship ("For Good"). As the mob arrives at the castle, Dorothy throws a bucket of water on Elphaba, apparently melting her, while Glinda leaves with the Grimmerie.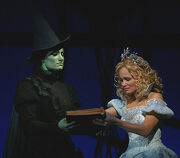 In recapitulation, it is revealed that the Wizard is actually Elphaba's father. Glinda orders the Wizard to leave Oz in his balloon, and sends Morrible to prison, before preparing to address the citizens of Oz, returning to the opening scene of the show. Meanwhile, Fiyero, whom Elphaba had turned into the Scarecrow, opens a trap door in the castle; Elphaba, very much alive, emerges, and the two are reunited. Fiyero tells Elphaba that if the two of them want to be safe, no one must ever know that she is alive. Glinda addresses the citizens of Oz, proclaiming that she would like to be "Glinda the Good" as she will reform the government. Elphaba and Fiyero leave Oz, as Glinda celebrates with the citizens of Oz ("Finale").
Original Broadway Cast
Edit
Elphaba: Idina Menzel
Glinda: Kristin Chenowith
Fiyero: Norbert Leo Butz
The Wizard: Joel Grey
Madame Morrible: Carole Shelley
Nessarose: Michelle Ferderer
Boq: Christopher FitzGerald
Doctor Dillamond: William Youmans
Chistery: Manuel Herrera
Witch's Father / Ozian Official:Sean Mcourt
Witch's Mother: Cristy Candler
Midwife: Jan Neuberger
Songs and Characters
Edit
Act I
No One Mourns the Wicked – Glinda, Witch's Father, Witch's Mother, Lover, Midwife and Citizens
Dear Old Shiz – Glinda and Students
The Wizard and I – Madame Morrible and Elphaba
What is this Feeling? – Glinda, Elphaba and Students
Something Bad – Doctor Dillamond and Elphaba
Dancing through Life – Fiyero, Glinda, Boq, Nessarose, Elphaba, and Students
Popular – Glinda
I'm Not that Girl – Elphaba
One Short Day – Elphaba, Glinda and Denizens of the Emerald City
A Sentimental Man – The Wizard
Defying Gravity – Elphaba, Glinda, Guards and Citizens
Act II
No One Mourns the Wicked (reprise) – Citizens
Thank Goodness – Glinda, Madame Morrible and Citizens
The Wicked Witch of the East – Nessarose, Elphaba, and Boq
Wonderful – The Wizard and Elphaba
I'm Not That Girl (reprise) – Glinda
As Long as You're Mine – Elphaba and Fiyero
No Good Deed – Elphaba
March of the Witch Hunters – Boq (Tin Man) and Citizens
For Good – Elphaba and Glinda
Finale – Company
Major Characters (In Order of Appearance)
Edit
Broadway Production:
The National Tours:
Edit

The Chicago production:
Year
Award ceremony
Category
Nominee
Result
2006
Joseph Jefferson Awards
Outstanding Actress in a Principal Role – Musical
Ana Gasteyer
Nominated
Kate Reinders
Nominated
Outstanding Actress in a Supporting Role – Musical
Rondi Reed
Nominated
Outstanding Director – Musical
Joe Mantello
Nominated
Outstanding Production – Musical
Nominated
The London Production
The Melbourne Production
Year
Award ceremony
Category
Nominee
Result
2008
Green Room Awards
Best Artistic Direction of a Musical
Susan Hilferty and Eugene Lee
Won
Best Choreography of a Musical
Wayne Cilento
Nominated
Best Director of a Musical
Lisa Leguilliou
Nominated
Best Featured Actress in a Musical
Penny McNamee
Won
Best Leading Actress in a Musical
Lucy Durack
Nominated
Amanda Harrison
Nominated
Best Lighting and Sound of a Musical
Kenneth Posner
Won
Best Musical
Nominated
Best Musical Direction of a Musical
Kellie Dickerson
Won
2009
Helpmann Awards
Best Choreography in a Musical
Wayne Cilento
Won
Best Costume Design
Susan Hilferty
Won
Best Direction of a Musical
Lisa Leguillou
Won
Best Female Actor in a Musical
Amanda Harrison
Nominated
Lucy Durack
Nominated
Best Female Actor in a Supporting Role in a Musical
Maggie Kirkpatrick
Nominated
Best Lighting Design
Kenneth Posner
Nominated
Best Male Actor in a Supporting Role in a Musical
Rob Guest
Won
Best Musical
Won
Best Original Score
Stephen Schwartz
Nominated
Best Scenic Design
Eugene Lee
Won
Best Sound Design
Tony Meola
Nominated
Sydney Theatre Awards
Best Performance by an Actress in a Musical
Amanda Harrison
Nominated
Lucy Durack
Nominated
Best Production of a Musical
Nominated
Wicked uses 250 pounds of dry ice per show on Broadway and they probably use 200 pounds per show on the road.
The electrics department uses enough power to supply approximately twelve houses. Including the sound and automation departments, the total would increase to eighteen houses.
Wicked uses 500-300 miles of cable in the electrics department on Broadway and they'll probably use 4-5 miles of cable on the road.
100,000 feet of steel cable have been used to restring the flying monkey wings during year one of the Broadway run.
The carpentry department on Broadway has about 175,000 pounds of scenery and they use about five miles of cable to automate it.
The dragon's eyes are red LED bulbs that never burn out.
The dragon's wingspan is the same as Cessna 172.
The dragon is named Ozwald.
The play is advertised under the tagline "So much happened before Dorothy dropped in."
"Best musical of the decade." Entertainment Weekly
"The defining musical of the decade." New York Times
"A cultural phenomenon." Variety
Wicked in Popular Culture
Edit
The extraordinary success of Wicked has made several of the show's songs popular and has resulted in references to the show, characters, and songs in popular culture. Wicked on Broadway and in international productions has been featured or parodied on televison shows such as Brothers and Sisters, The War at Home, Ugly Betty, The Simpsons, South Park, and is continously featured on Glee. 
The Dutch cast of Wicked appeared in an episode of the daily soap Goede Tijden, Slechte Tijden. In this episode, Elphaba (Willemijn Verkaik), Glinda, Madame Morrible, Fiyero and The Wizard appear in a dream of GTST character Lucas Sanders (played by Ferry Doedens, alternate Fiyero). The episode aired on June 29th, 2012. 
The Broadway musical Shrek the Musical parodies the show's Act I finale with "What's Up, Duloc?"; character Lord Farquaad re-enacts "Defying Gravity" by shouting "No one's gonna bring me down" followed by the infamous belt of Elphaba's while atop his castle.