Wicked National Tours
Comments

2
297pages on
this wiki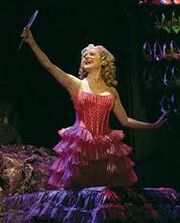 Wicked currently has two National Tours, crisscrossing over the United States and Canada to bring Wicked to nearly 9.5 million people. The National Tours have frequently been selling out entire engagements in fewer than seven hours.
First National Tour
Edit
The First National Tour had its first preview on March 9, 2005 and it officially opened in March 21, 2005 at the Canon Theatre in Toronto, Canada with Stephanie J. Block as Elphaba and Kendra Kassebaum as Glinda. They are joined by Carol Kane as Madame Morrible, David Garrison as Wizard, Timothy Britten Parker as Doctor Dillamond, Derrick Williams as Fiyero, Logan Lipton as Boq and Jenna Leigh Green as Nessarose.
Currently, the production is at the Capital Theatre in Salt Lake City, Utah with Emma Hunton as Elphaba, Gina Beck as Glinda , Alison Fraser as Madame Morrible, Tim Karuzinsky as The Wizard , Tom Flynn as Doctor Dillamond, Nick Adams as Fiyero, Jesse JP Johnson as Boq, Jenny Florkowski as Nessarose and Emmy Raver-Lampman as the Elphaba Standby.
Second National Tour
Edit
\When the First National Tour proved to be successful, a second National tour kicked off with their first previews on March 7, 2009, and officially opened on March 12, 2009 at Barbara B. Mann Performing Arts Hall at Fort Myers, FL with Marcie Dodd as Elphaba, Heléne Yorke as Glinda, Marilyn Caskey as Madame Morrible, Tom McGowan as The Wizard, Colin Donnell as Fiyero, Ted Ely as Boq and Kristine Reese as Nessarose.
Currently, the production is at the Centennial Concert Hall in Winnipeg, Manitoba with Laurel Harris as Elphaba, Kara Lindsay as Glinda, Jody Gelb as Madame Morrible, Gene Weygandt as The Wizard, Michael DeVries as Doctor Dillamond, Matt Shingledecker as Fiyero,  Lee Slobotkin as Boq, Catherine Charlebois as Nessarose and Alyssa Fox as the Elphaba Standby.