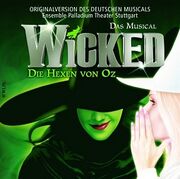 Wicked Die Hexen Von Oz
is the German version of
Wicked
: The Untold Story of The Witches of Oz. Based on the novel of
Wicked: The Life and Times of the Wicked Witch of the West
by
Gregory Maguire
.
Wicked: Die Hexen von Oz originally opened on November 15, 2007 at the Palladium Theatre in Stuttgart. The last show was on January 31st 2010 when the show transferred to Oberhausen on March 8th, 2010. The last performance was on September 2, 2011.
Originals (Stuttgart)
Edit
Final (Stuttgart)
Edit
Stand-Ins (Principle)
Edit
Opening cast (Oberhausen)
Edit
Closing cast
Edit
Merchandise
Edit
Wicked: Die Hexen Von Oz soundtrack with the original cast is available on InandOutRecords for $30.85, and for the best price, Grooves-Inc. for $22.84. Please note that prices are subject to change.
Songs included are:
Ad blocker interference detected!
Wikia is a free-to-use site that makes money from advertising. We have a modified experience for viewers using ad blockers

Wikia is not accessible if you've made further modifications. Remove the custom ad blocker rule(s) and the page will load as expected.