Vicki Noon formerly portrayed Elphaba in the Chicago, LA, San Francisco, 2NT and Broadway productions of Wicked.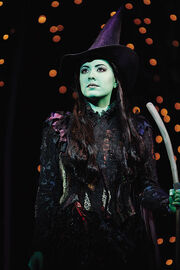 Vicki first appeared in the Chicago production of Wicked, as a member of the ensemble and understudy for Elphaba. Her first performance as Elphaba took place on July 19, 2008. She was then asked to j oin the LA production to stand-by for Elphaba, so replaced Marcie Dodd on November 4, 2008. She continued to stand-by for Eden Espinosa until the show closed in 2009. The company transferred to San Francisco, where she continued as standby. Previews began, with Noon stepping in as Elphaba for an ill Teal Wicks, on January 27, 2009. From the end of March 2009 until early May, she became the temporary lead Elphaba, while Wicks was on an extended leave of absence. Noon departed San Francisco on March 7, 2010, and replaced Marcie Dodd as the lead Elphaba on the 2NT. from April 6, 2010. Vicki played her final performance on January 23, 2011 and was replaced by Anne Brummel. Noon began performances on August 14, 2012 as a member of the ensemble and understudy for Elphaba in the Broadway production, replacing former Elphaba understudy Caroline Bowman. She was replaced by Carla Stickler, former 1NT standby and understudy.
Ad blocker interference detected!
Wikia is a free-to-use site that makes money from advertising. We have a modified experience for viewers using ad blockers

Wikia is not accessible if you've made further modifications. Remove the custom ad blocker rule(s) and the page will load as expected.