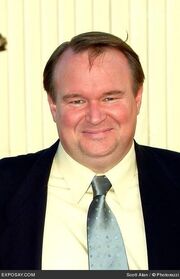 Tom McGowan
is the current
Wizard
in the Broadway production.
McGowan was the original Wizard with the Second National Tour, which opened on March 12, 2009. He was replaced by Don Amendolia on December 9, 2009.
Then, he went to the San Francisco production and replaced Lee Wilkof on December 22, 2009 and closed the production on September 5, 2010.
McGowan then returned to the Second National Tour on January 11, 2011, replacing Zach Hanna. He was once again replaced by Don Amendolia on April 19, 2011.
Then, he went to the Broadway production, replacing P.J. Benjamin on May 3, 2011 and has remained there ever since.
McGowan recived a 1991 Tony Award nomination for Best Actor in the play, "La Bete" by David Hirson. He also won an Obie Award for his off-Broadway performance of The Food Chain.