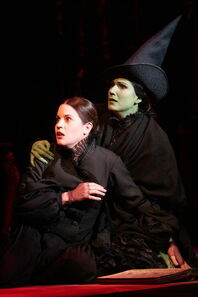 The Wicked Witch of the East
is featured in Act II, Scene 2, of the musical
Wicked
and is sung by
Elphaba
,
Boq
and
Nessarose
. Elphaba chants a spell to make her sister walk, and now Boq, feels it's the right time to leave Nessarose in order to express his love for
Glinda
. However, Nessarose does not take to kindly to the idea and chants a spell to make Boq lose his heart to her after he announces he lost his heart to Glinda. However, she pronnounces the words all wrong and makes Boq loose his heart almost completely. Nessarose, now in guilt, labels herself
The Wicked Witch of the East
, as Elphaba transforms Boq into the tin man and declares "he won't need [a heart] now". Sung by Michelle Federer, Chris Frizgerald, and Idina Menzel.
The Wicked Witch of the East is the only song not to be feature on the original Broadway cast recording, as the producers felt the song included too much dialogue and would also give some of the plot away to people who have not seen the show.
Translation ---- courtesy of Blue-eyesThropp
Edit
The translation to Elphaba's chant for Nessa's shoes:
Give movement to a suffering child,
Learn to Move,
Hot feet.
Walk,
Walk then foot
foot,
hot feet
NESSAROSE (spoken)
Elphaba, shut up! First of all, I can't harbor a fugitive, I am an unelected official. And why should I help you?
NESSA:
(spoken) You fly all around Oz trying to rescue Animals you've never even met, and not once did you ever think to use your powers to rescue me!


(sung) All of my life I've depended on you, how do you think that feels?
All of my life I've depended on you, and this hideous chair with wheels
Scrounging for scraps of pity to pick up
and longing to kick up my heels


ELPHABA:
(spoken) Nessa, there isn't a spell for everything! The power is mysterious. It's not like cobbling up a pair of...
Wait.
(chanting)Ambulahn Dare Pahto Pahpoot Ambulahn Dasca Caldapess Lahfenahto Lahfenahtum Pede Pede Caldapess...


NESSA:
(As Elphaba chants) What are you doing? What does that mean?
Oh! My shoes! They feel like they're on fire! What have you done to my shoes?
(Nessa attempts so stand, then falls down) No! No, don't help me. (She tries again and successfully stands)


ELPHABA:
(spoken) Oh Nessa! At last!
(sung) I've done what long ago I should,
and finally from these powers something good!
Finally! Something good...


NESSA:
(spoken) Boq! Boq, come quickly! Boq, come here at once!


ELPHABA:
No, Nessa, wait, no one can know I'm here–


BOQ:
Yes, what is it, Madame Governor? (sees Elphaba) YOU! Stay back!


ELPHABA:
Boq, it's just me. I'm not going to hurt you.


BOQ:
You're lying! That's all you ever do. You and your sister... she's as wicked as you are!


ELPHABA:
What are you talking about?


BOQ:
I'm talking about my life! The little that's left of it. I'm not free to leave Munchkinland, none of us are! Ever since she took power, she's been stripping the Munchkins of all our rights – and we didn't have many to begin with! And do you know why?


NESSA:
To keep you here with me! But none of that matters anymore. Look! (stands up)


BOQ:
(to Elphaba) You did this, for her?


NESSA:
For both of us.


BOQ:
Oh Nessa. This changes everything.


NESSA:
I know.


BOQ:
(sung) Nessa,


NESSA:
Yes?


BOQ:
Uh, Nessa,
Surely now I'll matter less, to you
And you won't mind my leaving here tonight?


NESSA:
Leaving?


BOQ:
Yes!
That ball that's being staged,
announcing Glinda is engaged
to Fiyero!


NESSA:
Glinda?


BOQ:
Yes, Nessa that's right!
And I've got to go appeal to her,
express the way I feel to her...
(spoken) Oh Nessa, I lost my heart to Glinda the moment I first saw her. You know that.


NESSA:
...Lost your heart? Well, we'll see about that!


ELPHABA:
Nessa, let him go.


NESSA:
Did you think I'd let you leave me here flat?


BOQ:
Don't come any closer!


NESSA:
(sung)You'll lose your heart to me, I tell you!
If I have to... I have to... magic spell you!
(chanting)Ah... Tum... Core... Tum... Ah... Tum... Tah... Tayk–


ELPHABA:
(As Nessa chants) Nessa, no, it's dangerous...

BOQ:
What's she doing?


ELPHABA:
You're pronouncing the words all wrong...


BOQ:
I'm warning you! Don't try to stop me!
Oh!


ELPHABA:
Oh no... NESSA!


NESSA:
(stops chanting) Boq, what is it?


BOQ:
My heart... it feels... it feels like it's shrinking!


NESSA:
Oh, Elphaba, do something!


ELPHABA:
I can't. You can't reverse a spell once it's been cast.


NESSA:
Whatever will we do?
This is all your fault! If you hadn't shown me that horrendible book...


ELPHABA:
Hush, will you? I've got to find another spell. It's the only thing that might work.


NESAA:
(Sung) Save him,
Please, just save him,
My poor Boq, my sweet, my brave him
Don't leave me till my sorry life has ceased...


ELPHABA:
(Chanting in harmony)Vivahlos Vivahlos Meno Non Cordo Meno Vivahlos Vivahlos Meno Non Cordo...


NESSA:
...Alone and loveless here,
With just the girl in the mirror
Just her and me,
The Wicked Witch of the East...
We deserve each other...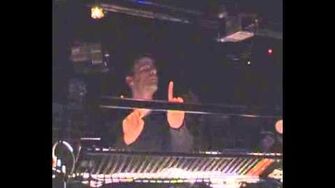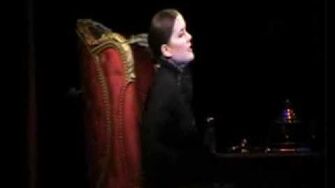 Ad blocker interference detected!
Wikia is a free-to-use site that makes money from advertising. We have a modified experience for viewers using ad blockers

Wikia is not accessible if you've made further modifications. Remove the custom ad blocker rule(s) and the page will load as expected.