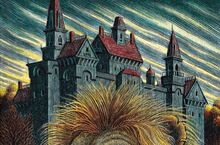 The Cloister of St. Glinda is a Unionist mauntery located on the border of the Emerald City, Gillikin and Munchkinland, near Lady Glinda's Mockbeggar Hall and lake Restwater.
In addition to serving as a recluse for maunts, it also takes in travelers, providing them with a place to rest on their journey. The cloister is under the patronage of the Lady Glinda.
Permanent Residents
Edit
Elphaba Thropp for over seven years in Wicked.
The Maunts, including:
Notable guests
Edit
Lady Glinda in Son of a Witch and A Lion Among Men.
Liir, who was born there in Wicked: The Life and Times of the Wicked Witch of the West, and returned in Son of a Witch for medical treatment.