静岡大学
is the version of
Dear Old Shiz
in the
Japanese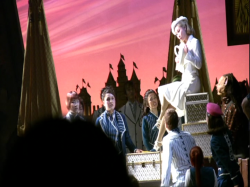 production
of Wicked. The title literally translates to "Shiz college".
『 グリンダ様、あなたが悪い魔女と友達だったというのは本当ですか?! まぁ、「友達」といってもいろいろあるけれど。
彼女とは「知り合い」だったの。でもずいぶん昔のことよ。 私達、シズ大学の同級生だったの。 』

麗しき学び舎よ
我ら ここに集う
清き理想を掲げ
希望を胸に抱きつつ
友よ 学ばん
永久(とこしえ)に 幸あれ
Ah---
我がシズ――

『 Gurinda-sama, anata ga warui majo to tomodachidatta to iu no wa hontōdesuka? ! Ma~a,`tomodachi' to itte mo iroiro arukeredo.
Kanojo to wa `shiriai'datta no. Demo zuibun mukashi no koto yo. Watashitachi, Shizu daigaku no dōkyūseidatta no.』

Uruwashiki manabiya yo
Warera koko ni tsudou
Kiyoki risō o kakage
Kibō o mune ni dakitsutsu
Tomoyo-gaku ban
Towa (tokoshie) ni kō are
Ah---
Waga Shizu ――

Direct Translation
Edit
"Glinda-sama! Is it true you were friends with the evil witch?"
"Well - a 'friend' can mean many things. She was really an 'acquaintance'... But that is from a really long time ago. We were classmates at Shiz University."
At this glorious hall of learning
We gather here
To uphold pure ideals
And embrace hope in our hearts
Friends, let us be educated
Let us ever be blessed
Ahh ...
Our Shiz
Ad blocker interference detected!
Wikia is a free-to-use site that makes money from advertising. We have a modified experience for viewers using ad blockers

Wikia is not accessible if you've made further modifications. Remove the custom ad blocker rule(s) and the page will load as expected.