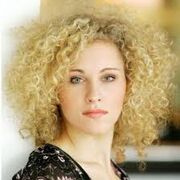 Sabrina Weckerlin (Vecker-leen) is a German actress and singer. She was the original alternate Elphaba in the first German production of Wicked, in Stuttgart, and temporarily played as lead in the Oberhausen production.
Songs On iTunes
Edit
You can buy Sabrina's rendition of the German version of "Defying Gravity" titled "Frei Und Schwerelos" for $0.99 on iTunes. She is also featured on Patrick Satnke's album Ich Bin Musik which translates from German to I Am Music. With Stanke she sings his rendition of "As Long As You're Mine" availible for $0.99.
Ad blocker interference detected!
Wikia is a free-to-use site that makes money from advertising. We have a modified experience for viewers using ad blockers

Wikia is not accessible if you've made further modifications. Remove the custom ad blocker rule(s) and the page will load as expected.