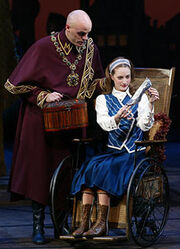 Rush Margins is a fishing village located in the south of Munchkinland, off the shores of Illswater.
It was the home of Frexspar and Melena Thropp (as well as the birth place of their daughter, Elphaba). The village is mostly inhabited by fishermen. Rush Margins is part of the Wend Hardings region of Munchkinland, which according to Nanny, is peasant ridden, filthy, and depressed.
Rush Margins was hit hard by the Great Drought. The villagers were also accustomed to their Unionist Minister, Frexspar, to preach to them and make them stay loyal to the Unnamed God.
The village was visited by the Clock of the Time Dragon at the beginning of Wicked. They indulged in the pleasure faith and shunned their Unionist Minister, beating him quite severely, before a wife took him to a cellar for safety. A large pack of them went hunting, under instructions by the Dwarf and the Clock, to find and kill Frexspar and his wife Melena.
Known Inhabitants
Edit
Frexspar The Godly - Unionist Minister of the area and husband of Melena Thropp.
Melena Thropp - Lived near Illswater and mother of Elphaba.
Elphaba Thropp - Lived with her mother and father.
Boq - Grew up with and, went to Shiz with, Elphaba.
Stoy - A villager who was drawn to the Clock of the Time Dragon.
Perippa - A villager who was drawn to the Clock of the Time Dragon.