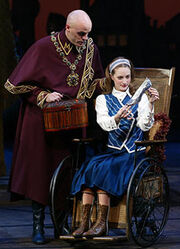 Rush Margins is one of the villages off the shores of Illswater and in the south of Munchkinland. It was the home of Frexspar and Melena Thropp (as well as the birth place of their daughter, Elphaba). The Village is mostly inhabited by Fishermen. Rush Margins is part of Wend Hardings of Munchkinland which according to Nanny was Peasant Ridden, Filthy and Depressed, and she feared she would be robbed.
Rush Margins was hit quite hard by the Great Drought. They were use to their Unionist Minister, Frexspar, to come by and preach to them to make them stay loyal. The Village was visited by the Time Clock at the beginning of Wicked (The Life and Times of the Wicked Witch of the West). They indulged in the pleasure faith and shunned their Unionist Minister, beating him quite severely, before a wife took him to a cellar for safety. A large pack of them went hunting, under instructions by the Dwarf and the Clock, to find and kill Frexspar and his wife Melena.
Known Inhabitants
Edit
Bfee - He was the Mayor of Rush Margins and father of Boq
Frexspar Thropp - Unionist Minister of the Area and husband of Melena
Melena Thropp - Lived near Illswater and mother of Elphaba
Elphaba Thropp - Lived with her mother and father
Boq - Lived with his mother Gawnett. He grew up with and, went to Shiz with Elphaba.
Gawnett - Wife of Bfee, she lived with her son Boq, and her other children. She was drawn to the Clock of the Time Dragon.
Stoy - Was an Inhabitant. He was drawn to the Clock ofthe Time Dragon.
Perippa - Was an Inhabitant. She was drawn to the Clock of the Time Dragon. 
Ad blocker interference detected!
Wikia is a free-to-use site that makes money from advertising. We have a modified experience for viewers using ad blockers

Wikia is not accessible if you've made further modifications. Remove the custom ad blocker rule(s) and the page will load as expected.