Rondi Reed played Madame Morrible on Broadway for the musical Wicked and was part of the original Chicago cast.
Reed was part of the original Chicago cast as Madame Morrible, which opened on July 13, 2005. She left when Carole Shelley replaced her on April 25, 2006. She then returned to the role again on June 27, 2006, replacing Carole Shelley. She left once again when Barbara Robertson replaced her on May 8, 2007. She returned to the role of Morrible on June 27, 2008, replacing Barbara Robertson and left the production when Barbara Robertson returned to the role on November 18, 2008.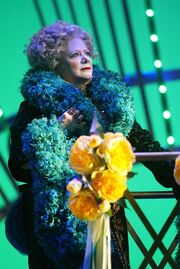 Reed replaced Jayne Houdyshell on March 17, 2009 in the Broadway production. She left when Kathy Fitzgerald replaced her on June 29, 2010.
Reed has won the Tony Award for the Best Performance by a Featured Actress in a Play 2008 in the Broadway production: August: Osage County with the role of Mattie Fae Aiken.
Ad blocker interference detected!
Wikia is a free-to-use site that makes money from advertising. We have a modified experience for viewers using ad blockers

Wikia is not accessible if you've made further modifications. Remove the custom ad blocker rule(s) and the page will load as expected.