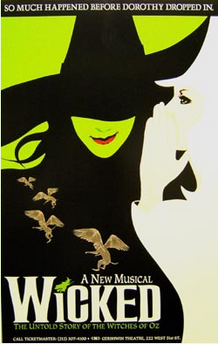 The Roll Up Poster is a 14" x 22" or 31.8 cm x 50.8 cm poster of the
Wicked
logo.
Customer Reviews show that the average rating out of six reviews is five stars.
The price at The OzDust Boutique North America is $19.00 and The OzDust Boutique London is £9.50 and it looks slightly different.
The concept of the poster was to have the "Good" witch in white, whispering to the green witch which shows their enduring friendship. This is one of the most popular Wicked merchandise.
Roll Up Poster - The OzDust Boutique: North America