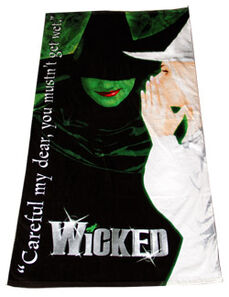 The Organic Beach Towel is one of the pieces of merchandise one can buy based off the musical Wicked. The towel is 32" wide and 63" long (North America) or 43" wide and 70" long (London) features the Wicked logo with the phrase on the left side, "Careful my dear, you mustn't get wet." The towel is made with 100% organic cotton.
Customer reviews show five stars out of five stars for four reviews.
The price for the towel from the North American OzDust Boutique is $35.00 and from the London OzDust Boutique, £22.00.
Ad blocker interference detected!
Wikia is a free-to-use site that makes money from advertising. We have a modified experience for viewers using ad blockers

Wikia is not accessible if you've made further modifications. Remove the custom ad blocker rule(s) and the page will load as expected.