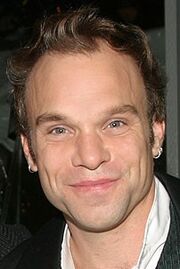 Norbert Leo Butz played the original Fiyero during the San Francisco tryout of the show, and opened the show on Broadway as part of the original cast. Shortly after opening Butz injured his back and was forced to take a seven week break from the show. His role was covered by Kristoffer Cusick, his understudy at the time, and then by Taye Diggs. He returned to the show in January 2004 and permanently left the production on July 14, 2004, alongside fellow cast members Kristin Chenoweth and Joel Grey.
Norbert Leo Butz appears on the Original Broadway Cast recording of Wicked as Fiyero in Dancing Through Life, Thank Goodness and As Long As You're Mine.
He is currently married to
Michelle Federer
who is the original Broadway Nessarose and they have a daughter named Georgia Teresa.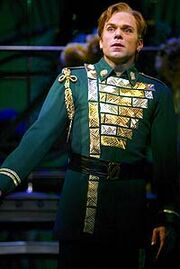 Ad blocker interference detected!
Wikia is a free-to-use site that makes money from advertising. We have a modified experience for viewers using ad blockers

Wikia is not accessible if you've made further modifications. Remove the custom ad blocker rule(s) and the page will load as expected.