Nicole Parker was Elphaba in the Broadway production for a six month run from January 16 to July 21 2009. She starred opposite Alli Mauzey as Glinda.
Like Ana Gasteyer from SNL, Nicole Parker has also appeared on a sketch comedy show, MadTV.
Parker has also appeared in such films as Meet the Spartans, Disaster Movie and Funny People.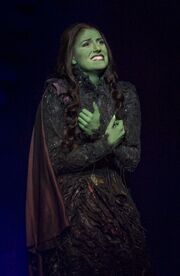 Nicole returned to the role of Elphaba in the 1st National Tour on May 18th, 2012. She replaced actress Mamie Parris and reunited with former co-star Alli Mauzey.
Ad blocker interference detected!
Wikia is a free-to-use site that makes money from advertising. We have a modified experience for viewers using ad blockers

Wikia is not accessible if you've made further modifications. Remove the custom ad blocker rule(s) and the page will load as expected.