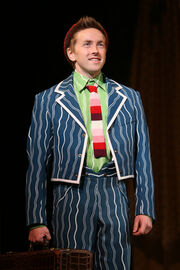 Millia was a friend of Glinda, after they met at Shiz.
Name pronunciation- MI-a
Biography
Edit
She was one of Glinda's cronies back when she was Galinda. She later married Boq and moved with him to Munchkinland where they had several children. Though Boq writes that she was miserable there, and often attempted suicide. The suicide attempts happened because she was put in a lower social standing because she married Boq. She is still alive twenty years after leaving Shiz, and has "kept her figure," in Elphaba's mind.
Ad blocker interference detected!
Wikia is a free-to-use site that makes money from advertising. We have a modified experience for viewers using ad blockers

Wikia is not accessible if you've made further modifications. Remove the custom ad blocker rule(s) and the page will load as expected.