Mark Seibert was part of the original Stuttgart Cast, which opened on November 15, 2007, in the role of Fiyero Tigelaar. He left on September 17, 2008, to be replaced by Mathias Edenborn on the same date.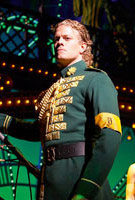 Seibert is also featured on the Wicked Die Hexen Von Oz German language soundtrack, where he reprises his role as Fiyero for all four songs in which he appears.
On iTunes, he has an album titled Musical Ballads: Unplugged where he sings "Solang Ich Dich Hab" with Willemijn Verkaik.
Ad blocker interference detected!
Wikia is a free-to-use site that makes money from advertising. We have a modified experience for viewers using ad blockers

Wikia is not accessible if you've made further modifications. Remove the custom ad blocker rule(s) and the page will load as expected.