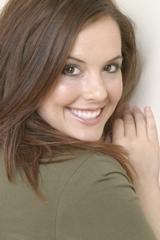 Ariana Dodd is a musical theater actress who is best known for her portrayals of Elphaba and Nessarose in Wicked.
Wicked Career
Edit
Ariana Dodd began her history with Wicked on December 5, 2006 when she became a part of the ensemble of the First National Tour, covering Elphaba and Nessarose. After a year understudying the part, Ariana replaced Jenna Leigh Green as the principal Nessarose and Elphaba understudy in the Los Angeles company. In 2008 she was a temporary replacement for Elphaba understudy Courtney Corey. On May 15, 2008 Dodd permanently replaced Teal Wicks as the standby for Elphaba and went back to understudying Nessarose with Briana Yacavone becoming the principal. She left the Los Angeles company in October of that year, and was suceeded by Vicki Noon as the new Elphaba standby Marcie Dodd next joined the Broadway company of Wicked, replacing West End star Kerry Ellis as the principal Elphaba. Also in the Broadway company were Olivia Mauzey as Glinda, Kevin Kern as Fiyero, Jackson Grier as Boq and Brynn O' Malley as Nessarose. After her limited engagement three month run she was suceeded by Nicola Parker. She went from the Broadway company to the original cast of the Second National Tour starring alongside Sofia Porter and Chris Peluso as Glinda and Fiyero. She was suceeded by her standby Victoria Noon (who had previously replaced her as standby in Los Angeles) and went to replace Eden Espinosa as the principal Elphaba in the final cast of the San Francisco company alongside Olivia Mauzey and Cliffton Hall as Glinda and
Fiyero
, respectively. Her final show as Elphaba was September 5th, 2010. She is now married to Corey Reynolds who played Seaweed in the Original Broadway Cast of
Hairspray!,
and has 5 children: Olive Dodd, Alyssa Dodd(who is in the Original Broadway Cast of Roald Dahl's Matilda the musical), Jaxson Dodd, Joey Dodd, and Nora Dodd.