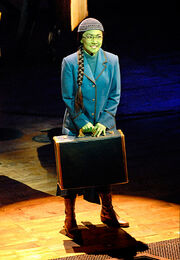 ウィザードと私
is the version of
The Wizard And I
in the
Japanese production
of Wicked. The title translates to the English pronunciation, The Wizard and I.
MADAME MORRIBLE:
『 ああ、ミス・エルファバ!! 』

やっと会えたわ
この日を待っていた
素晴らしい その力!
見つけたわ
ああ マイ ディア
手紙 書きましょう
魔法使いのオズの陛下に 宛てて
貴方を推薦するの
弟子として

ELPHABA:
夢を見てるの 褒められるなんて
隠しつづけた力 才能だって
もしそうなら 受け取るわ
贈り物

魔法の陛下に 会えるなら
その瞬間よ 生まれ変わる
そうよ!
私の緑色 彼は気にしない
もうすぐそこなの
素晴らしい出逢いは
希望に満ちた世界が
私を待っている
早く会いたい 夢の人

前を向いて 進むのよ
光輝く 明日へと
苦しみ悲しみの暗闇を抜けて
私は掴むの あたたかい幸せを
どんな夢もいつかは必ず叶う
自分の力 信じるわ

彼は言うのよ
"エルファバ お前は素晴らしい
魔法の技を全て 教えてあげよう
そして君の願い事を 叶えてあげよう
緑色とは もうお別れだ"

夢見心地で聞くのよ あの言葉を
明日が今 始まるわ
生まれ変わる 私が

出来るわ 必ず 出来るわ
果てしなく広がる この未来
そう その明日へ 翼広げ
大空に向い 飛び立ってゆくの
その日が来た

ああ なんて素敵
魔法使いが
私に愛を 運んでくれるわ
私には未来がある
素晴らしい世界が
明日に向い 進んでゆくの
ついに実るわ 私の夢

MADAME MORRIBLE:
『 Ā, misu erufaba! ! 』

Yatto aeta wa
Kono ni~tsu o matteita
Subarashī sono chikara!
Mitsuketa wa
Ā mai dia
Tegami kakimashou
Mahōtsukai no Ozu no heika ni atete
Anata o suisen suru no
Deshi to shite

ELPHABA:
Yume o mi teru no home rareru nante
Kakushi tsudzuketa chikara sainō datte
Moshi sōnara uketoru wa
Okurimono

Mahō no heika ni aerunara
Sono shunkan yo umarekawaru
Sō yo!
Watashi no midoriiro kare wa kinishinai
Mōsugu sokona no
Subarashī deai wa
Kibō ni michita sekai ga
Watashi o matte iru
Hayaku aitai yume no hito

Mae o muite susumu no yo
Hikari kagayaku ashita e to
Kurushimi kanashimi no kurayami o nukete
Watashi wa tsukamu no atatakai shiawase o
Don'na yume mo itsuka wa kanarazu kanau
Jibun no chikara shinjiru wa

Kare wa iu no yo
" Erufaba omae wa subarashī
Mahō no waza o subete oshiete ageyou
Soshite kimi no negaigoto o kanaete ageyou
Midoriiro to wa mō o wakareda

Yumemigokochi de kiku no yo ano kotoba o
Ashita ga ima hajimaru wa
Umarekawaru watashi ga

Dekiru wa kanarazu dekiru wa
Hateshinaku hirogaru kono mirai
Sō sono ashita e tsubasa hiroge
Ōzora ni mui tobitatte yuku no
Sonohi ga kita

Ā nante suteki
Mahōtsukai ga
Watashi ni ai o hakonde kureru wa
Watashiniha mirai ga aru
Subarashī sekai ga
Ashita ni mui susunde yuku no
Tsuini minoru wa watashinoyume

Direct Translation[2]Edit
MADAME MORRIBLE:
Ah, Miss Elphaba!!

Finally we could meet
I've been waiting for this day
It's marvelous, that power!
I've found it
Oh, my dear
I shall write a letter
Addressed to His Majesty, the Wizard of Oz
And recommend you
As his apprentice

ELPHABA:
Am I dreaming, being praised like this
This power I've kept concealed is supposed to be a talent?
If that is so, I'll accept
This gift

If I can meet His Majesty, the Wizard
In that moment I'll be reborn
Oh yes!
He won't care that I'm green
Not much longer until
That wonderful encounter is right before me
A world filled with hope
Is waiting for me
I want to meet you soon, person of my dreams

I'm looking forward, and advancing
To a brightly shining tomorrow
Emerging from the darkness of pain and sorrow
I grasp hold of a warm happiness
No matter what the dream is some day it will surely come true
I'll believe in my power

He will say
"Elphaba, you are amazing
I'll teach you all the techniques of magic
And I'll grant you your wish
Now say goodbye to that green color"

I'll dreamily listen to those words
Tomorrow is starting now
I'm being reborn

I can do it, surely, I can do it
This endlessly expanding future
Yes, I'm spreading my wings towards that tomorrow
I'm taking off towards the sky
That day has come

Oh, how wonderful
The Wizard
Is bringing me love
I have a future
And it's a wonderful world
I'm advancing towards tomorrow
Finally my dream is bearing fruit

|}