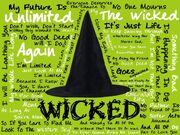 Wicked has 20 songs, though only 19 were featured in the soundtrack, The Wicked Witch of the East was not put in the soundtrack. Wicked's songs were composed by Stephen Schwartz.
Act I songs
No One Mourns The Wicked
Dear Old Shiz
The Wizard and I
What is This Feeling?
Something Bad
Dancing Through Life
Popular
I'm Not That Girl
One Short Day
A Sentimental Man
Defying Gravity
Act II songs
Thank Goodness
The Wicked Witch Of The East
Wonderful
I'm Not That Girl (reprise)
As Long As You're Mine
No Good Deed
March Of The Witch Hunters
For Good
Finale
Ad blocker interference detected!
Wikia is a free-to-use site that makes money from advertising. We have a modified experience for viewers using ad blockers

Wikia is not accessible if you've made further modifications. Remove the custom ad blocker rule(s) and the page will load as expected.