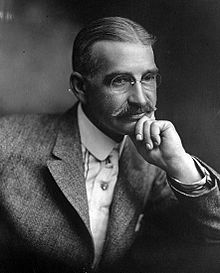 Lyman Frank Baum (pen name: L. Frank Baum) was an American author chiefly known for his children's books set in the Land of Oz. He was born in Chittenago, New York May 15, 1856. He married Maud Gage. Baum and Maud had four sons, Frank Joslyn, Harry Neal, Robert Stanton, and Kenneth Gage.
In 1900, L. Frank Baum and W.W. Denslow developed the OZ Series, which contained fifteen books he wrote, including The Wonderful Wizard of OZ. He wrote the OZ Books with John R. Neil until his death, as well as writing silent films in Hollywood.
On May 5, 1919, Baum suffered a stroke. The following day he slipped into a coma but briefly awoke and spoke his last words to his wife, "Now we can cross the Shifting Sands." Frank died on May 6, 1919 at the age of 62.
Ad blocker interference detected!
Wikia is a free-to-use site that makes money from advertising. We have a modified experience for viewers using ad blockers

Wikia is not accessible if you've made further modifications. Remove the custom ad blocker rule(s) and the page will load as expected.