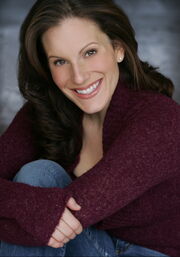 Kristy Cates is widely acclaimed for her role as Elphaba, in various productions of WICKED from 2003 to 2006.
She was first seen as part of the original Broadway production, which had it's premiere at the Gershwin Theatre October 30, 2003. She was a member of the female ensemble and also understudied Idina Menzel and later Shoshana Bean in the lead role of Elphaba.
While Cates continued to perform as part of the Broadway company, the news came that Stephanie J Block, who was set to open the show's first North American tour in March 2005, has been injured during a rehearsal. Producers quickly flew Cates out to Toronto where the tour was to be launched, in order for her to stand-in for Block until her recovery. The tour's first performance took place March 9, 2005, with the opening delayed. Cates exited the tour March 24, as Block was able to return the following day.
After over a month away from the Broadway company she returned to the Gershwin until May 29, 2005 when she departed to take on the role in the upcoming Chicago production of the show. She was replaced by Brandi Chavonne Massey.
Cates then originated the role of the standby for Elphaba in the new sit-down production which opened on July 13, 2005. When lead actress Ana Gasteyer left the production, Cates assumed the lead role beginning performances January 24, 2006. After playing the role for over ten months she left the production on December 12, 2006 and was replaced by Dee Roscioli, who would later become the longest-running Elphaba.
As Elphaba, Kristy performed with a number of actresses in the co-starring lead role of Glinda. These included Jennifer Laura Thompson, Kendra Kassebaum, Kate Reinders, Stacie Morgain Lewis and Erin Mackey. In the Broadway company, she never got to go on opposite Kristin Chenoweth and Megan Hilty.
While in college, Cates shared a room with her future WICKED alum Shoshana Bean.
On the original cast recording, she sang the lines "No one cries they won't return" and "I hear some rebel animals are giving her food and shelter.'
Ad blocker interference detected!
Wikia is a free-to-use site that makes money from advertising. We have a modified experience for viewers using ad blockers

Wikia is not accessible if you've made further modifications. Remove the custom ad blocker rule(s) and the page will load as expected.