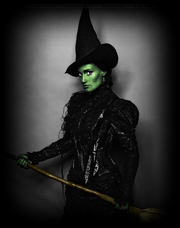 Kiamo Ko
is a castle in the Vinkus. It is the residence and ruling seat of the
Tigelaar Family, the cheiftains of the Arjiki Tribe.
Elphaba took it up as her residence after Sarima was taken by Commander Cherrystone. Liir also went there after leaving the Gale Force. It is the stronghold of the Arjiki Tribe. The castle was also the last home for Elphaba when Dorothy killed her with a bucket of water. In the musical, Fiyero refered to the castle as having been abandoned, the only people living there is the sentries who watch over it. He also says that there are tunnels and secret passageways. This is confirmed in the musical when he returns as a scarecrow to retrive Elphaba after her "melting".
Kiamo Ko is also the home to Cattergy Spunge, or Nanny as she is normally called. Nanny is the Thropp family's nanny. She took care of Melena, Elphaba, Nessarose, and Shell.
Known inhabitants
Edit