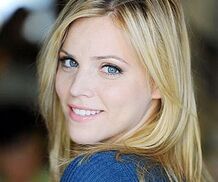 Katie Rose Clarke
replaced Christina DeCicco as
Glinda
on November 6, 2007 on the First National Tour. She starred alongside Carmen Cuscack and Donna Vivino as Elphaba. She was replaced by
Chandra Lee Schwartz
on August 21, 2009.
Clarke returned to the role of Glinda in Wicked, this time on Broadway, on January 14th of 2010, replacing Erin Mackey. Laura Woyasz temporarily stepped in for Clarke, who was on leave, beginning on March 25, 2011, with Clarke returning to the role on April 26, 2011.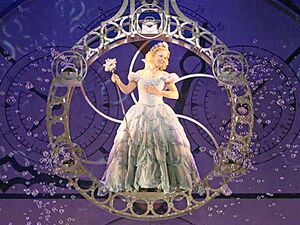 Chandra Lee Schwartz
once again replaced Clarke on Broadway September 27, 2011. While on Broadway she starred alongside Dee Roscioli, Mandy Gonzalez and Teal Wicks as Elphaba and Andy Karl and Richard H. Blake as Fiyero. 
Clake re-joined the First National Tour on November 15, 2011, replacing Amanda Jane Cooper as Glinda. She was replaced by fellow Broadway Wicked veteran Alli Mauzey on February 24th, 2012.
On April 23rd 2013 Clarke returned to the role of Glinda in the Broadway production first starring alongside Willemijn Verkaik as Elphaba and then Lindsay Mendez. She again left the Broadway company on September 22, 2013 and again was replaced by Wicked vet Alli Mauzey.  
Katie was on the "Oz Blog," with Andy Karl as the host. But Katie also was a camera stealer in Fly Girl blog with Lindsay Mendez as the host.
Ad blocker interference detected!
Wikia is a free-to-use site that makes money from advertising. We have a modified experience for viewers using ad blockers

Wikia is not accessible if you've made further modifications. Remove the custom ad blocker rule(s) and the page will load as expected.