Katie Adams
was the standby for
Glinda
in the Broadway production of
Wicked
in 2005. On December 20, 2005, she replaced Stacie Morgain Lewis. She was then succeeded by Alli Mauzey as standby in April of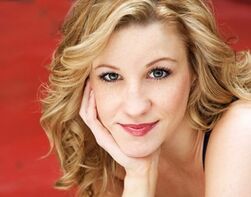 2007, and then returned to the role of Glinda standby in October of the same year. Adams was replaced by Laura Woyasz in February of 2009.
Adams was also part of the Wicked Original First National Tour Cast. She was part of the ensemble and also understudy for Glinda.
Ad blocker interference detected!
Wikia is a free-to-use site that makes money from advertising. We have a modified experience for viewers using ad blockers

Wikia is not accessible if you've made further modifications. Remove the custom ad blocker rule(s) and the page will load as expected.