Kate Reinders portrayed Glinda in the Chicago production of Wicked in 2005. She was given a Joseph Jefferson Award nomination for Best Actress in a Principal Role. Both she and Ana Gasteyer, Elphaba at the time, completed their runs with the Chicago cast on January 22, 2006. Then on May 30, 2006 Reinders replaced Megan Hilty as Glinda with the Broadway company. While in the role, Reinders performed "Popular" in a Daily Double about Wicked on "Jeopardy!". Reinders ended her run with the Broadway company on January 7, 2007.
On October 27, 2008, Reinders participated in a concert event called The Yellow Brick Road Not Taken, which included scenes and songs cut from early drafts of Wicked. It was held at the Gershwin Theatre.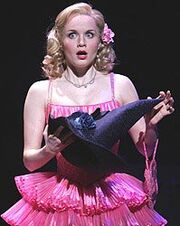 Ad blocker interference detected!
Wikia is a free-to-use site that makes money from advertising. We have a modified experience for viewers using ad blockers

Wikia is not accessible if you've made further modifications. Remove the custom ad blocker rule(s) and the page will load as expected.