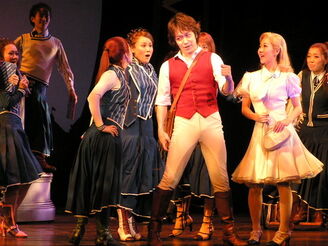 人生を踊ります is the Japanese verson of Dancing Through Life.
FIYERO:
学校から 学ぶことなんてない
俺がこれから言うことをよく聞けよ
まず楽しむことさ 人生は
学校飛び出せ
怖がるな
学校 けっとばせ!
さあ!

踊ろう みんな一緒
それが人生だ
踊れば 心は
明るく 晴れ晴れと
脳みそ ため込んで
嬉しがるのはバカ
人生 踊り明かそうよ
何も考えず

気楽に 過ごそうよ
無責任 OK!
苦しみ 哀しみ
踊れば飛び散るさ
何も考えず
脳みそ捨て去って
楽しく踊ろうよ
そういつが マイライフ

『 で、この街で一番オシャレな場所は?
GLINDA:
スターダスト・ダンスホールよ。
FIYERO:
OK! 決まりだ。 』

朝が来るまで踊ろう
楽しみ抜こう
さあ 決まった!
ダンスホールへ
みんなでゆこう
俺たちは星くず
クズだけど 星でもあるよ

SHIZ STUDENTS:
楽しもう
踊ろうよ
FIYERO:
星くずが手を取り合うんだ
ALL:
踊ろう 朝が来るまで
それが 人生さ

BOQ:
『 ミス・グリンダ。。。一度でいいから、僕と踊ってよ。 君のことを待ってるよ、一晩中でも。
GALINDA:
親切なのね、でも、もっと私が喜ぶことって何だと思う? 』

ああ彼女 かわいそう
いつもただ
さみし気に 見ているだけ
みんなを
かわいそうな彼女
誘う友 いて欲しい

BOQ:
『 。。。じゃあ、僕が誘ってあげる! 』

GALINDA:
まあ、ビッグ、本当? 
やさしいのね

BOQ:
『 君のためなら何だってするよ。

GALINDA:
さてと、
FIYERO:
。。。じゃあ八時頃、迎えに行こうか?
GALINDA:
素敵! 』

私たち二人

GALINDA+FIYERO:
気が合いそうだ
GALINDA:
は
FIYERO:
ね
GALINDA:
あなた
FIYERO:
僕と
BOTH:
仲良くしよう
手を取り合い
踊ろう

NESSA:
『 エルファバ。。。私もダンスホールに行くの! 』

楽しいのよ 私の気持ちは
デートだわ 素敵な彼と
グリンダさんに お礼言いたい
二人はお似合い 私とボック
仲良くしたいの
手を通り会い ながく

『 お願いエルファバ。。。 』
ELPHABA:
そうね

『 グリンダ、あのね。。。ネッサとあなたのこと話してたんだけど。。。
GALINDA:
私もあなたのこと話してたの! 今夜のパーティにどう? 』

あなたに
ね? 似合うの
黒は 流行よ
あたしからの贈り物
受けて さあ
みんな 褒める きっと
仲良しのしるし

BOQ:
ネッサ
NESSA:
『 何? 』
BOQ:
あの ネッサ
話があるんだ
実は。。。ね
今夜 君のことを
誘ったわけは

NESSA:
『 私、分かってるわ。
BOQ:
本当? 』

NESSA:
憐れみからね
それでもいいわ
嬉しいの

BOQ:
『 違う、違うんだ。だから、その。。。 』
君が素敵な人

NESSA:
まあ ボック
夢のようよ
ずっと待ってたの
運命の人を
心ときめく 想いを

BOQ:
『 あのさ。。。 』
行こう
NESSA:
『 え? 』
BOQ:
踊ろう!

SHIZ STUDENTS:
楽しもう
踊ろうよ
星くずが手を取り合うんだ
踊ろう 朝が来るまで
それが人生さ


---

FIYERO:
gakkou kara manabu koto nante nai
ore ga kore kara iu koto o yoku kike yo
mazu tanoshimu koto sa jinsei wa
gakkou tobidase
kowagaru na
gakkou kettobase!
saa!

odorou minna issho
sore ga jinsei da
odoreba kokoro wa
akaruku harebare to
noumiso tame konde
ureshigaru no wa BAKA
jinsei odoriakasou yo
nani mo kangaezu

kiraku ni sugosou yo
musekinin OK!
kurushimi kanashimi
odoreba tobichiru sa
nani mo kangaezu
noumiso sutesatte
tanoshiku odorou yo
sou itsu ga MAI RAIFU

『 de, kono machi de ichiban OSHARE na basho wa?
GALINDA:
SUTAADASUTO DANSUHOORU yo.
FIYERO:
OK! kimari da! 』

asa ga kuru made odorou
tanoshimi nukou
saa kimatta!
DANSUHOORU e
minna de yukou
oretachi wa hoshikuzu
KUZU dakedo hoshi de mo aru yo

SHIZ STUDENTS:
tanoshimou
odorou yo
FIYERO:
hoshikuzu ga te wo toriaun da
SHIZ STUDENTS:
odorou asa ga kuru made
FIYERO:
sore ga jinsei sa

BOQ:
『 MISU GURINDA ... ichido de ii kara, boku to odotte yo.
kimi no koto o matteru yo, hitoban chuu de mo.
GALINDA:
shinsetsu na no ne, demo, motto watashi ga yorokobu koto tte nan da to omou? 』

aa kanojou kawaisou
itsumo tada
samishi ki ni mite iru dake
minna o
kawaisou na kanojo
sasou tomo ite hoshii

BOQ:
『 ... jaa, boku ga sasotte ageru! 』

GALINDA:
maa, BIKKU, hontou? yasashii no ne

BOQ:
『 kimi no tame nara na date suru yo.

GALINDA:
sate to,
FIYERO:
... jaa hachi ji goro, mukae ni ikou ka?
GALINDA:
suteki! 』

watashitachi futari
BOTH:
ki ga ai sou da
GALINDA:
wa
FIYERO:
ne
GALINDA:
anata
FIYERO:
boku to
BOTH:
nakayoku shiyou
te o toriai
odorou

NESSAROSE:
『 ERUFABA ... watashi mo DANSUHOORU ni iku no! 』

tanoshii no yo watashi no kimochi wa
DEETO da wa suteki na kare to
GURINDA san ni orei itai
futari wa oniai watashi to BOKKU
nakayoku shitai no
te o toriai nagaku

『 onegai ERUFABA ... 』
ELPHABA:
sou ne

『 GURINDA, ano ne ... NESSA to anata no koto hanashitetan dakedo ...
GALINDA:
watashi mo anata no koto hanashiteta no! konya no PAATI ni dou? 』

anata ni
ne? niau no
kuro wa hayari yo
atashi kara no okurimono
ukete saa
minna homeru kitto
nakayoshi no shirushi

NESSA:
『 nani? 』
BOQ:
ano NESSA
hanashi ga arun da
jitsu wa ... ne
konya kimi no koto o
sasotta wake wa

NESSA:
『 watashi, wakatteru wa.
BOQ:
hontou? 』

NESSA:
awaremi kara ne
sore de mo ii wa
ureshii no

BOQ:
『 chigau, chigaun da. dakara, sono ... 』
kimi ga suteki na hito

NESSA:
maa BOKKU
yume no you yo
zutto matteta no
unmei no hito o
kokoro tokimeku omoi o

BOQ:
『 ano sa ... 』
yukou

NESSA:
『 e? 』
BOQ:
odorou!

SHIZ STUDENTS:
tanoshimou
odorou yo
hoshikuzu ga te o toriaun da
odorou asa ga kuru made
sore ga jinsei sa
English translation
FIYERO:
There's nothing you can learn from school
Listen carefully to what I'm about to tell you
Life is all about first having fun
Cast school off
Don't be afraid
Kick school away
Now!
Let's dance, all of us together 
That's what life is
If you dance, your heart 
Will be come bright and sunny 
Only idiots are happy
Cramming their brains full of stuff
Let's brighten life through dancing
Without thinking about anything
Let's live easily
Being irresponsible is OK!
Suffering, sadness
Will all fall away and dissolve if you dance
Don't think about anything
Throw away your brain
Let's dance and have fun
That's my life
SO! what's the trendiest place in town?
GLINDA:
Starlight Dance Hall!
FIYERO:
OK! It's decided then.
Let's dance until morning comes
we'll have all the fun
So, it's decided
To the dance hall
We'll all go together!
We are stardust
We may just be dust, but we're stars as well
SHIZ STUDENTS:
Let's have fun
Let's dance
FIYERO:
The stardust will hold hands with each other
ALL:
Let's dance until morning comes
That's ... life
BOQ:
Miss Glinda! Even just once would be fine, dance with me.  I'll wait for you, all night!
GALINDA:
That's so kind of you! But, there's something that would make me even happier, what do you think that is?
Ahh, that poor girl
She is always just
In a lonely way, watching
Everyone else
I would love for a friend to invite
That poor she
BOQ:
Then I'll invite her!
GALINDA:
Ah, Biq! Really?
That's so kind 
BOQ:
For you, I'd do anything.
GALINDA:
Now that that's settled!
FIYERO:
So should I come meet you around eight?
GALINDA:
That would be great!
The two of us
GALINDA+FIYERO:
Looks like we'd get along
GALINDA:
You
FIYERO:
I
BOTH:
Let's get to know each other better
Let's hold hands and
Dance
NESSA:
Elphaba ... I'm going to the dance hall too!
I'm so happy
It's a date with a wonderful guy
I must say thanks to Glinda-san
The two of us fit each other, Boq and I
I want to get to know him well
I want to hold his hands for a long time
Please Elphaba.
ELPHABA:
Yes ...
Hey, Glinda ... I was talking with Nessa about you -
GALINDA:
I was talking about you too! What do you think about tonight's party???
Hey, this goes
Well with you!
Black is totally in
This is a present from me
Take it, go on!
Everyone will praise it, for sure!
This is a sign of our friendship
BOQ:
Nessa
NESSA:
Yes?
BOQ:
Hey, Nessa?
I have something to say to you
Actually the truth is ...
Tonight the reason
I invited you is -
NESSA:
I know.
BOQ:
Really?
NESSA:
It was out of pity, right?
But that's alright,
I'm still happy
BOQ:
No, no! That's not it, I mean, uh ...
You are a wonderful person!
NESSA:
Aah, Boq!
It's like a dream
I've been always waiting
For my fated person
For a heart-pounding experience
BOQ:
Hey ...
Let's go!
NESSA:
Eh??
BOQ:
Let's dance!
SHIZ STUDENTS:
Let's have fun
Let's dance
The stardust is holding hands
Let's dance until morning comes
That's life
Wicked Lyrics - Japanese Kanji Lyrics: jinsei o odoriakase
Ad blocker interference detected!
Wikia is a free-to-use site that makes money from advertising. We have a modified experience for viewers using ad blockers

Wikia is not accessible if you've made further modifications. Remove the custom ad blocker rule(s) and the page will load as expected.