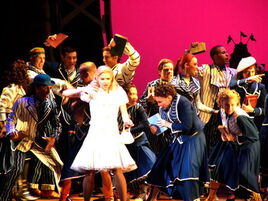 Im Guten Alten Glizz
is the version of
Dear Old Shiz
in the
the German Production of Wicked
. The title translates to "In the good old Glizz".
MAN:
Glinda! Stimmt es, dass du ihre Freundin warst?!

GLINDA:
Also ... das kommt darauf an, was man unter "Freundin" versteht. Gekannt habe ich sie schon. Unsere Wege haben sich mal gekreuzt. Auf der Schule.

ENSEMBLE:
Von Ruhm umglänzt,
Von Wein umkränzt,
Ein stolzer Ort gewiss.
Wird grau das Haar und trüb der Blick
Schaun wir immerdar voll Dank zurück
Auf die Zeit im alten Glizz.
Im guten, alten
GALINDA
Ah-ah-ah-alten ...

ENSEMBLE UND GALINDA:
... Alten Glizz-zzz
Direct Translation
Edit
MAN:
Glinda! Is it true that you were her friend ?!

GLINDA:
Well ... that depends on what you mean by "friend". I knew it already. Our paths have crossed once. At school.

ENSEMBLE:
From glory shines,
From wine wreathed,
A proud place certainly.
If gray hair and dull the look
Let's see forever back fully thanks
At the time in the old Shiz.
In a good old
GALINDA
Oh-oh-oh-old ...

ENSEMBLE AND GALINDA:
... Old Shiz-zzz