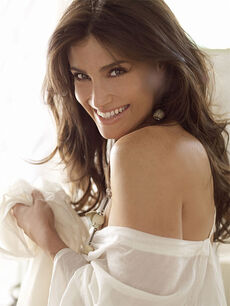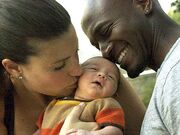 Idina Menzel portrayed the role of Elphaba in the original Broadway and West End casts of the musical Wicked. Other prominent roles include Maureen in the original cast Broadway musical and 2005 film production Rent, as well as appearing as a recurring chracter in Glee. She is married her RENT co-star Taye Diggs, who also portrayed Fiyero alongside Menzel on Broadway. She and Diggs have a son Walker Nathaniel Diggs.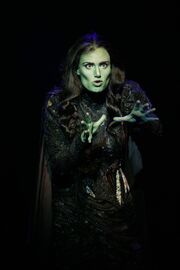 Idina starred with actress and singer Kristin Chenoweth on Broadway in Wicked, a musical by Stephen Schwartz and  lolololollollol hungry dolphinss  Winnie Holzman loosely based upon the popular 1995 Gregory Maguire novel. After a tryout in San Francisco, the show began previews on October 8 2003, with an official opening night of October 30.Edit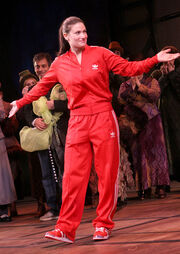 In 2003, Menzel appeared, along with her co-stars, on the original cast recording of Wicked, reprising her role as Elphaba.
Menzel received the 2004 Tony Award for Best Leading Actress in a Musical for her portrayal of Elphaba Thropp, the Wicked Witch of the West. On her second-to-last performance of Wicked on January 8, 2005, she fell through a trap door and cracked a lower rib. The injury prevented her from performing in the January 9 show. Menzel did, however, make a special out-of-costume (wearing a red sweat-suit) appearance at that performance, performed her final song, and received a 5 minute standing ovation. She was replaced by standby Shoshana Bean. Idina Menzel suffers from Asthma and comes from a Russian American / Jewish American family.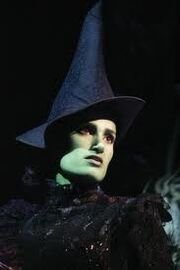 She later reprised her Tony-Award-winning performance as Elphaba. In the original London production of the show. Previews began September 7 2006, with an opening of September 27. The London production also starred Helen Daillimore as Glinda, Adam Garcia as Fiyero, Katie Rowley Jones as Nessarose and Miriam Margoyles as Madame Morrible. She ended her temporary 3 month contract on December 30 2006 and was replaced once again by her Standby
Kerry Ellis
.
Other credits for Idina Menzel include the role of Amneris in Aida, the Vagina Monologues, The Wild Party, and guest-starring on Grey's Anatomy spin-off, Private Practice. She has also starred in the Disney feature film Enchanted as Nancy Tremaine.
She is currently on Season 3 of Glee for about 10-12 episodes playing the role of Rachel's mother, Shelby.