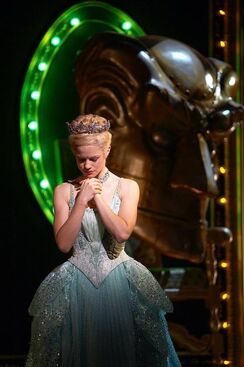 Ich bin es nicht (reprise)
is the
I'm Not That Girl (reprise)
in the German production,
Wicked Die Hexen Von Oz
. The title translates to
It's Not Me (Reprise).
GLINDA:
Gib auf, lass los!
Manche Wünsche
Schmerzen bloß.
Mich vermisst er kaum.
Sie ist sein Traum.
Ich bin es nicht.
Direct Translation
Edit
GLINDA:
Give up, let go!
Some wishes
Only hurt.
He hardly misses me.
She is his dream.
It's not me.
Wicked Lyrics- German: Ich bin es Nicht (reprise)
Wicked Lyrics- German Translation: Ich bin es Nicht (reprise)
Ad blocker interference detected!
Wikia is a free-to-use site that makes money from advertising. We have a modified experience for viewers using ad blockers

Wikia is not accessible if you've made further modifications. Remove the custom ad blocker rule(s) and the page will load as expected.