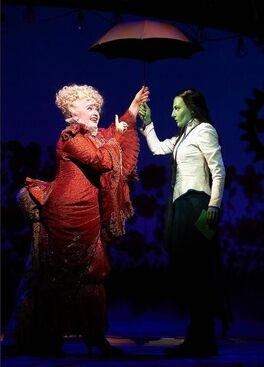 Ich bin es nicht
is
I'm Not That Girl
in the German production,
Wicked Die Hexen Von Oz
. The title translates to
It's Not Me
.
ELPHABA:
Puls steigt. Herz flirrt.
Plötzlich sprachlos und verwirrt.
Sehnsucht, und die Welt voll Licht.
Er, er könnt es sein.
Doch ich bin es nicht.
Nimm's so, wie es ist.
Denk dran, wer und was du bist.
Bild dir bloß nicht ein Wunder ein.
Er, er könnt es sein.
Ich bin es nicht.
In schwachen Stunden
Fliehn wir davon
In das Land des So-Könnt-Es-Sein.
Doch Trost für Wunden bleibt Illusion,
Denn die Wirklichkeit holt uns ein.
Blick lockt, Mund lacht.
Sie ist wie für ihn gemacht.
Goldhaar und ein Feengesicht.
Seine Art von Frau.
Ich weiß genau,
Ich bin es nicht.
Gib auf, lass los!
Manche Wünsche Schmerzen bloß.
Wen interessiert, ob mein Herz zerbricht.
Das bemerkt er kaum.
Sie ist sein Traum.
Ich bin es nicht.
Direct Translation:
ELPHABA:
Pulse climbs, heart flutters,
sudden speechless and confused.
Desire, and the world's full of light.
He, he could be it,
but it's not me.
Leave well enough alone,
Bear in mind, who and what you are.
Don't persuade yourself a miracle,
he, he could be it,
but it's not me.
In faint hours, we flee away
into the land of "So-Could-Be-It",
but comfort for wounds
is still an illusion,
'cause reality catches up us.
Look attracts, mouth smiles,
she's made for him,
golden hair and a face like a fairy,
his kind of a woman,
I know that well,
it's not me.
Capitulate, let go.
Many wishes just hurt.
Who cares if my heart breaks?
He hardly notice that,
she's his dream,
it's not me.

Wicked Lyrics: German lyrics - Ich vin es nicht
Translation - Ich vin es nicht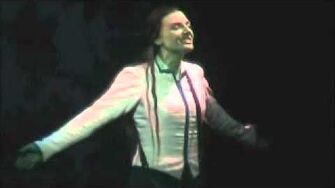 Ad blocker interference detected!
Wikia is a free-to-use site that makes money from advertising. We have a modified experience for viewers using ad blockers

Wikia is not accessible if you've made further modifications. Remove the custom ad blocker rule(s) and the page will load as expected.