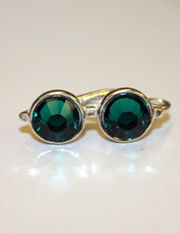 The Green Glasses Charm of 2010 is made out of sterling sliver with emerald jewels to create the charm that goes perfect with the Charm Bracelet.
The customer reviews show that they rate the product five stars out of three reviews.
This item is $20.00 at the North American Ozdust Boutique and £15.00 at the London Ozdust Boutique.
Ad blocker interference detected!
Wikia is a free-to-use site that makes money from advertising. We have a modified experience for viewers using ad blockers

Wikia is not accessible if you've made further modifications. Remove the custom ad blocker rule(s) and the page will load as expected.