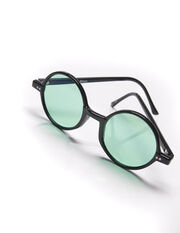 "These authentic Emerald City Green Glasses are actually worn onstage by the citizens of Oz! Each pair of Green Glasses is also imprinted with the Wicked logo on the side" (Ozdust Boutique). They can be found at the Ozdust Boutique North America for $19.00 and the Ozdust Boutique Down Under for $15.00. The item has an average rating out of 15 reviews of 5 stars.
Ad blocker interference detected!
Wikia is a free-to-use site that makes money from advertising. We have a modified experience for viewers using ad blockers

Wikia is not accessible if you've made further modifications. Remove the custom ad blocker rule(s) and the page will load as expected.