Costumes (in order of appearence)
Edit
Please note that the bubble dress appears first, but Glinda wears it a lot more at the end of the musical.
Shiz University Uniform
Edit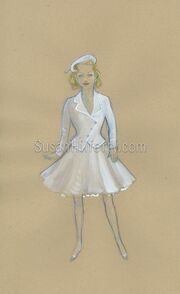 The Shiz uniform underwent a huge change in design after Kristin Chenoweth left the cast.
In most productions, Glinda is wearing her Shiz shoes under the Bubble Dress during the first scene. This is to assist with the quick change that occurs between No One Mourns The Wicked and Dear Old Shiz
Party Dress
Edit
The party dress was originally designed to be blue, which was used in the San Francisco tryouts, but was later changed to pink.
It has little rainbow stitching and comes in two separate pieces, the skirt and the corset top.
The ruffles that make up the skirt vary in size and number based on the actress and location of the production.
Emerald City Dress
Edit
The bodice and skirt come in two separate pieces.
The bodice is very similar to the top of the popular dress in design and concept, with only minor differences in construction and execution.
Thank Goodness Dress
Edit
Engagement Dress
Edit
Bubble Dress
Edit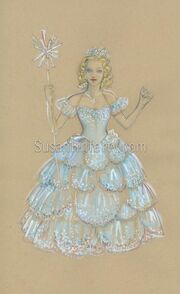 Susan Hilferty was inspired by the sky
It is supposed to be every girls dream dress
Susan Hilferty, the designer of the costumes of Wicked, explained there are 25 different kinds of sequins used on the Bubble Dress.
The sequins are all hand-sewn.
The Bubble Dress was intended to appear like a wedding dress or every girl's fantasy of a princess outfit.
There are 9 different fabrics used in the construction of the Bubble Dress
Ad blocker interference detected!
Wikia is a free-to-use site that makes money from advertising. We have a modified experience for viewers using ad blockers

Wikia is not accessible if you've made further modifications. Remove the custom ad blocker rule(s) and the page will load as expected.