Bubble Gown
Edit
The Bubble Dress is worn by Glinda at the beginning and end of the musical. It's supposed to represent any girl's dream dress, and was based off of Christian Dior's vintage "Junon" dress.
Songs:
Shiz Girl Dress
Edit
The Shiz Girl Dress is actually a white vest, shirt and skirt with ruffles. 
Songs:
Popular Dress
Edit
The Popular Dress is a pink dress, that's somewhat simple. The skirt consists of layers of flaring strips of fabric that create a nice effect.
Songs
One Short Day Dress
Edit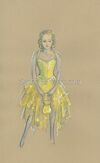 The One Short Day Dress is a yellow dress, and is nearly a copy of the Popular dress, however the skirt has layers that are the same length but are jagged at the rim and create a mountain-like effect.
Songs:
Thank Goodness Gown
Edit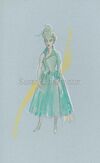 The Thank Goodness Gown represents Glinda's transformation into a public figure. She adopts the asymetricallity of the Emerald City. One side of the outfit has a full sleeve, while the other does not. Instead, it is replaced by a sheer sleeve with jewels attached to give the illusion that jewels are attached to the skin. The hat (which varies from production to production is also worn to one side. 
Songs:
Engagement Gown
Edit
The Engagement Gown is green, and looks like a 17th century pale green ball gown. The petals are very similar to the Bubble Gown. The tiara is worn off center, again in allusion to the asymetricallity of the Emerald City.
Songs:
Ad blocker interference detected!
Wikia is a free-to-use site that makes money from advertising. We have a modified experience for viewers using ad blockers

Wikia is not accessible if you've made further modifications. Remove the custom ad blocker rule(s) and the page will load as expected.