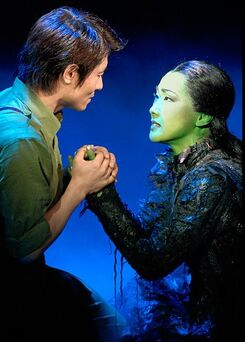 あなたと永遠に私 is As Long As You're Mine in Japanese. The title translates to You and Me Forever.
Kangi
燃えるような 眼差し
今 私を 見つめてる
二人きり とうとう
抱きしめて キスをして
この時を 永遠に
たとえ生命 果てようと
今 私幸せよ
さあ 強く抱いて
夢のよう
君に逢って 目覚めた
今 心は愛に満ち
さあ 行こう 一緒に
恋の海に 落ちてゆく
もう二度と 離れない
たとえ この身 朽ち果てても

もう決して 離れない

もう決して 決して
君だけを 抱き続け
光の朝 月の夜も
いつまでも いつまでも
離れない 二人
永遠に
『どうしたんだい ? なんでもない。。。ただ、生まれて初めて、幸せ。』
Moeru yōna manazashi
Ima watashi o mitsume teru
Futarikiri tōtō
Dakishimete kisuwoshite
Kono toki o eien ni
Tatoe seimei hateyou to
Ima watashi shiawase yo
Sā tsuyoku daite
Yume no yō
Kimi ni atte mezameta
Ima kokoro wa ai ni michi
Sā ikou issho ni
Koi no umi ni ochite yuku
Mōnidoto hanarenai
Tatoe kono mi kuchihatete mo

Mō kesshite hanarenai

Mō kesshite kesshite
Kimi dake o daki tsudzuke
Hikari no asa tsukinoyo mo
Itsu made mo itsu made mo
Hanarenai futari
Eien ni
『 Dō shita n dai? Nan demonai... Tada, umaretehajimete, shiawase.』
Direct Translation
Edit
You look at me now with eyes
That seem to be burning
The two of us alone at last
Embrace me, kiss me
This moment is forever
Even when our lives end
Right now I am happy
So hold me tightly
Like a dream
When I met you I awoke
Now my heart is filled with love
So let's go together
Let's flee to the ocean of love
We'll never be apart again
Even when this body crumbles to dust We'll never part Never ever
I'll keep holding you, only you
In the light of the morning and under the moon at night
Forever and ever
We'll never be apart, the two of us
Forever
『What is it? Nothing. It's just, for the first time since I was born, I am happy. 』
Ad blocker interference detected!
Wikia is a free-to-use site that makes money from advertising. We have a modified experience for viewers using ad blockers

Wikia is not accessible if you've made further modifications. Remove the custom ad blocker rule(s) and the page will load as expected.