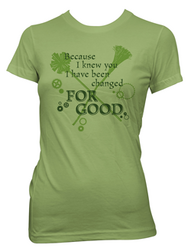 The Wicked For Good Tee showcases, "For Good" one of the most well known songs from Wicked, is a short-sleeved, crew neck, green fitted tee with the lyrics, "Becasue I knew you I have been changed FOR GOOD." Elphaba's broom crossing Glinda's bubble wand, is featured in the background.
Customer reviews show five stars out of one review.
This item can be only be bought from the North American OzDust Boutique for $39.00.
Ad blocker interference detected!
Wikia is a free-to-use site that makes money from advertising. We have a modified experience for viewers using ad blockers

Wikia is not accessible if you've made further modifications. Remove the custom ad blocker rule(s) and the page will load as expected.