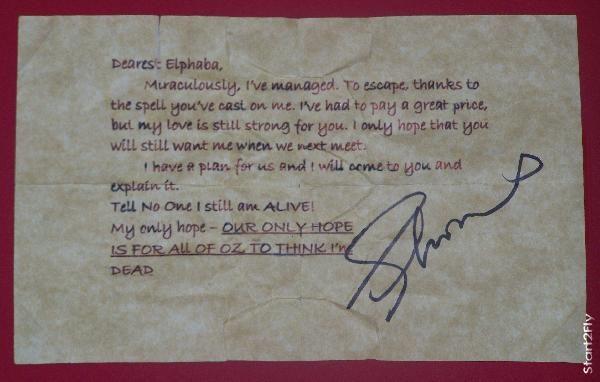 Fiyero's Letter to Elphaba is a prop that was used on Broadway in Wicked from 2003 to 2004. Fiyero Tiggelaar]] was originally played by Norbert Leo Butz in the Broadway cast. This item is a small piece of tan paper with writing all over the front of the letter. This item has been folded many times and was used for over a year in the production, so it is kind of beat up. It is really rare to be able to read the front of this letter because in the musical the actual letter is never read to the audience and all the audience really hears is kind of a summary of the letter in Elphaba's own words.
You can see this item during the end of the musical, right after the song "March of the Witch Hunters" when Elphaba is in Fiyero's castle. Glinda travels to Kiamo Ko to persuade Elphaba to let Dorothy go, but while Glinda is doing this Elphaba receives a letter from Fiyero and she tells Glinda that they have seen his face for the last time. Elphaba makes Glinda promise not to clear her name and to really take charge of Oz, changing it for the better. They sing "For Good" about their friendship and then Elphaba stages her own death with Dorothy throwing the water on her. This item was originally purchased at the Broadway Flea Market that is held every year in New York City around July. Shoshana Bean signed the actual item at the location, that it was bought by a prop-selling website.
Ad blocker interference detected!
Wikia is a free-to-use site that makes money from advertising. We have a modified experience for viewers using ad blockers

Wikia is not accessible if you've made further modifications. Remove the custom ad blocker rule(s) and the page will load as expected.