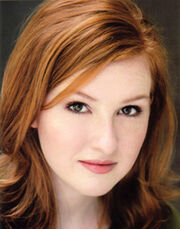 Erin Mackey made her Wicked debut as a Swing on the first National Tour. She later joined the Chicago company as an ensemble member and Glinda understudy before taking over the lead role of Glinda from Stacie Morgain Lewis on October 24, 2006. She completed her run on April 13, 2008 and was replaced by Kate Fahrner. During her run in the Chicago production, she starred alongside Kristy Cates and Dee Roscioli as Elphaba.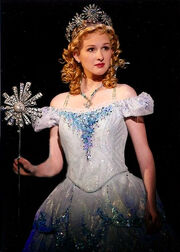 She then joined the Los Angeles company, reprising the role of Glinda. She replaced Megan Hilty on May 20, 2008 and continued in the role until September 28, 2008, replaced by Emily Rozek. She starred opposite Teal Wicks as Elphaba.
She again played the role of Glinda in the Broadway production of the show. She replaced Alli Mauzey on August 11, 2009 and completed her run on January 10, 2010, replaced by Katie Rose Clarke. She again starred opposite Dee Roscioli as Elphaba.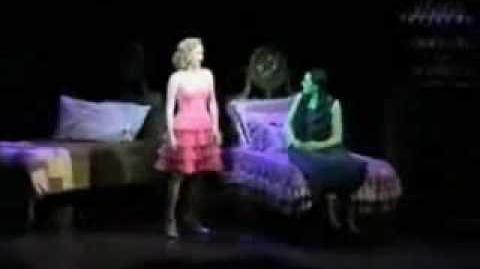 Mackey appeared (at a very young age) as Lindsay Lohan's double in Disney's remake of the 1961 film The Parent Trap.
Ad blocker interference detected!
Wikia is a free-to-use site that makes money from advertising. We have a modified experience for viewers using ad blockers

Wikia is not accessible if you've made further modifications. Remove the custom ad blocker rule(s) and the page will load as expected.