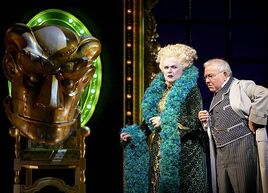 Ein seelenvoller Mann is A Sentimental Man in German in the production, Wicked Die Hexen Von Oz. The title translates to A Soulful Man.
German lyrics:
Ich bin ein seelenvoller Mann,
Voll unerfüllter Vatersehnsucht.
Und darum hoffe ich, ich kann
Dem Volk von Oz ein Vater sein,
Der zu verstehn sucht.
Du, Elphaba, sollst lernen, wie man siegt,
Denn glaub mir: leben heißt
Zu lernen, wie man fliegt.
Wer so wie du mein Herz rührt,
Soll erhöht sein bis zum Höhenkoller,
Denn ich bin ein seelenvoller Mann.
Direct Translation
Edit
I am a soulful man,
Father full of unfulfilled longing.
And so I hope I can
Be a father to the people of Oz,
Seeks to understand.
You, Elphaba should learn how to win,
Because believe me, to live is
To learn how to fly.
Those like you touched my heart,
Should be increased up to altitude sickness,
For I am a soulful man
Ad blocker interference detected!
Wikia is a free-to-use site that makes money from advertising. We have a modified experience for viewers using ad blockers

Wikia is not accessible if you've made further modifications. Remove the custom ad blocker rule(s) and the page will load as expected.