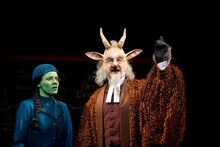 This is the pairing of Doctor Dillamond and Elphaba Thropp. Doctor Dillamond is one of Elphaba's teachers at Shiz University. Together they sing Something Bad. In the musical, the two experience a bond that makes them friends. Later, the goat professor is arrested, and Elphaba finds him speechless in the Wizard's palace. This is one time in their pairing that is particularly sad, as Elphaba is forced to flee and not help her old professor. In No Good Deed, Elphaba sings of how Doctor Dillamond suffered and lost his voice because of her, and how so many people have sacrificed because of her cause to take down the Wizard.
Ad blocker interference detected!
Wikia is a free-to-use site that makes money from advertising. We have a modified experience for viewers using ad blockers

Wikia is not accessible if you've made further modifications. Remove the custom ad blocker rule(s) and the page will load as expected.