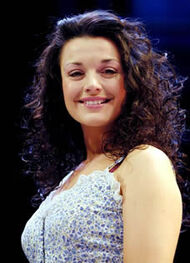 Dianne Pilkington is an English actress who assumed the role of Glinda in the West End production of Wicked after Helen Dallimore's departure.
She took over for Dallimore in 2007, after leaving Cats, and has played Glinda for three consecutive years, appearing alongside Kerry Ellis and Alexia Khadime, who both played Elphaba. Her last performance as Glinda was on March 27th, 2010. She was replaced by Louise Dearman.
Other Stage Credits
Edit
Les Miserables
Sweeney Todd
Taboo
Beauty and the Beast
Snow White and the Seven Dwarves
Cats
Wicked
Ad blocker interference detected!
Wikia is a free-to-use site that makes money from advertising. We have a modified experience for viewers using ad blockers

Wikia is not accessible if you've made further modifications. Remove the custom ad blocker rule(s) and the page will load as expected.