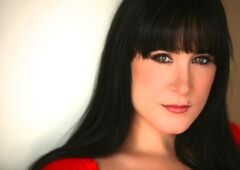 Dee Roscioli most recently played Elphaba on the Wicked First National Tour. She also appeared in the Chicago, San Francisco, and Broadway productions as Elphaba and the Elphaba Standby. She holds the record for most shows played as Elphaba.
Biography
Edit
She started as the standby for Elphaba on January 24, 2006, replacing Kristy Cates in the Chicago Company and then took over the lead role on December 12, 2006, after Cates left the show. She was then temporarily replaced by Lisa Brescia on June 3, 2008 when she took a leave of absence. She then returned to the role and on August 26, 2008 and closed the Chicago company on January 25, 2009.
Roscioli was also a San Francisco Standby for Elphaba from April 7 replacing Merideth Kaye Clark and was replaced on April 19, 2009 by
Vicki Noon
as she reprised her role. She also replaced
Nicole Parker
as Elphaba on July 21, 2009 in the Broadway production and left the show on March 23, 2010, being replaced by
Mandy Gonzalez
. On June 7, 2011, Dee returned to the role of Elphaba on the First National Tour, opposite
Amanda Jane Cooper
as Glinda. She was replaced on October 4, 2011 by Mamie Parris. In September 2012, Dee returned to First National Tour replacing Nicole Parker as Elphaba. She starred alongside Patti Murin as Glinda.
On a 2010 poll for "Who is your favorite Elphaba?" which featured all the actresses who played Elphaba up to October 28, 2010, she was chosen as first with 43% of the votes.
Ad blocker interference detected!
Wikia is a free-to-use site that makes money from advertising. We have a modified experience for viewers using ad blockers

Wikia is not accessible if you've made further modifications. Remove the custom ad blocker rule(s) and the page will load as expected.