Ad blocker interference detected!
Wikia is a free-to-use site that makes money from advertising. We have a modified experience for viewers using ad blockers

Wikia is not accessible if you've made further modifications. Remove the custom ad blocker rule(s) and the page will load as expected.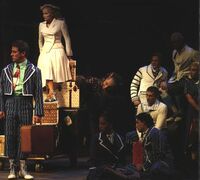 Dear Old Shiz is the second song of the show. It is sung by the students of Shiz and Galinda. Elphaba makes her entrance during this song by running through the doors in the clock to the front of the stage while Galinda comes sitting on a large pile of luggage pushed by a few boys. Im Guten Alten Glizz is the version of Dear Old Shiz in the the German Production of Wicked. The title translates to "In the good old Glizz". Ons Goeie Ouwe Shiz is the Dutch Production of Wicked of Dear Old Shiz. The title translate to "Our good old-fashioned Shiz."

STUDENTS:
O hallowed halls and vine-draped walls
The proudliest sight there is
(Male: Sight there is)
When grey and sere our hair hath turned
We shall still revere the lessons learned
(Females)In our days at dear old Shiz
(Males: dear old Shiz)
Our days at dear old

GALINDA:
Oh-oh-oh-oh-ol

STUDENTS AND GALINDA:
Dear old Shiz-zzzz