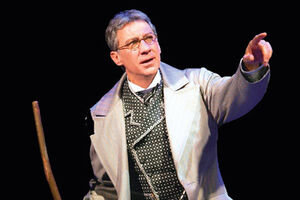 David Garrison was the original Wizard, for the First National Tour and the San Francisco cast and the Wizard for the Broadway, Chicago, and Los Angeles productions.
Garrison was the original Wizard for the First Naitonal Tour cast, which opened on March 21, 2005. He was replaced by P.J. Benjamin on March 8, 2006.
Garrison then went to Broadway, replacing Ben Vereen on April 4, 2006 and was replaced on July 10, 2007 by Lenny Wolpe.
Then he joined the Chicago cast to temporarily replace Peter Kevoian on October 2, 2007. Peter Kevoian returned to the role on October 30, 2007.
After that, Garrison replaced John Rubinstein on August 26, 2008, and joined the Los Angeles cast. He was part of the closing cast, which had their last performance on January 11, 2009.
He then was the original Wizard for the San Francisco production, which opened on February 6, 2009. He was replaced on June 2, 2009 by Lee Wilkof.