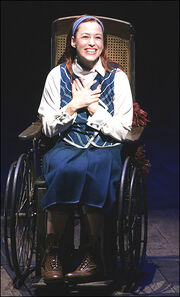 Cristy Candler has played the role of Nessarose on Broadway. She was the original Witch's Mother.
Cristy Candler was part of the original San Francisco Out-of-Town ensemble, which opened on June 10, 2003, and she played the part of the Witch's Mother and was Nessarose's understudy.
She then went to Broadway, which opened on October 30, 2003, as the Witch's Mother, ensemble member, and the understudy for Nessarose along with Eden Espinosa. She then replaced Michelle Federer as Nessarose on January 10, 2006.
Then, Jenna Leigh Green replaced Candler as Nessarose on March 17, 2006. Candler then returned to the role of Nessarose, and replacing Jenna Leigh Green on January 2, 2007. She was then replaced by Brynn O'Malley on November 11, 2008, and returned to the role on February 10, 2009. She was replaced by Michelle Federer on August 18, 2009. Candler then returned to the role on August 2, 2011 and has remained there ever since.
She is featured on the Wicked (Original Cast Album) in the part of the Witch's Mother for a few brief lines during No One Mourns The Wicked as well as the Wicked Ultimate Encore 2011 singing parts of Defying Gravity.
Ad blocker interference detected!
Wikia is a free-to-use site that makes money from advertising. We have a modified experience for viewers using ad blockers

Wikia is not accessible if you've made further modifications. Remove the custom ad blocker rule(s) and the page will load as expected.