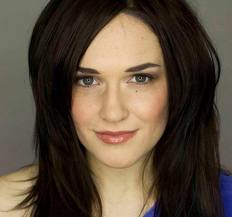 Christine Dwyer played the role of Elphaba in the Second National Tour and Broadway.
Christine joined the 2NT cast in March 2010 as understudy and became standby January of 2011. She became lead in May 2012 and played her final performance in March 2013 alongside Jeanna de Waal as Glinda. Dwyer became standby on Broadway replacing Carla Stickler and being replaced by Anne Brummel. Ironically, Dwyer had replaced Brummel 3 times previously. As understudy, standby and lead in the 2NT. She replaced Lindsay Mendez in February 2014 took on the role full-time. She left in December 2014.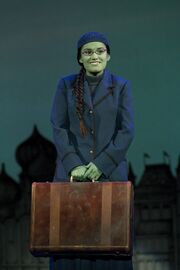 Dwyer returned to the show for a limited time while
Caroline Bowman
had surgery until early March. Bowman had previously replaced Dwyer as Broadway lead.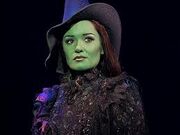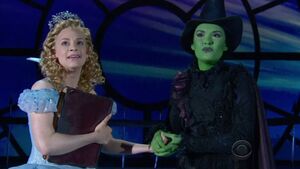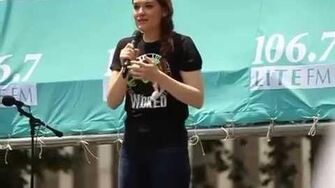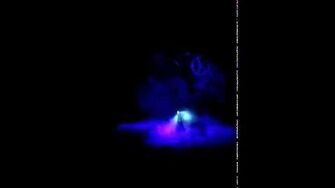 Jenni Barber and Christine Dwyer were guest stars for Project Runway: All Stars for the challenge of Good versus Wicked in the Glinda and Elphaba costumes.
Christine Dwyer was briefly shown in Kara Lindsay's vlog Think Pink, which was similar to Fly Girl by Lindsay Mendez, and also produced by Broadway.com. In it, Kara Lindsay visited Dwyer in her dressing room in order to "Raid her refrigerator," and commented to Dwyer "Your vocal damage is stunning."
Ad blocker interference detected!
Wikia is a free-to-use site that makes money from advertising. We have a modified experience for viewers using ad blockers

Wikia is not accessible if you've made further modifications. Remove the custom ad blocker rule(s) and the page will load as expected.