Chistery Nikko is the first and head of the flying monkeys in Gregory Maguire's novel series, the Wicked Years, and the subsequent musical of the same name.
In the novels, he is a snow monkey found by Elphaba Thropp in the mountains of the Vinkus. Elphaba sews wings onto him, thus giving him the ability to fly and teaches him how to speak. In the musical, he is first seen as a Monkey servant serving the Wizard of Oz, but after being freed, he and his fellow monkeys enter into the service of Elphaba.
In the Novels
Edit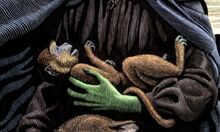 Chistery Nikko is an abandoned infant snow monkey who is rescued by Elphaba Thropp, while she was on her way to Kiamo Ko. Later in the novel, Elphaba teaches Chistery to speak, in hopes of completing Doctor Dillamond's study into the supposed connections between all lifeforms. Chistery, however, only manages to mimic what others say. Elphaba also sews wings onto his back and, after the operation proves successful, onto the backs of other snow monkeys; using a combination of Doctor Dillamond's studies and her own practice of magic, thus creating the winged monkeys.
After Elphaba's death, Chistery remain at Kiamo Ko with the other monkeys and looks after Nanny. He also has the ability to now speak in full, comprehensible sentences.
Chistery is greeted by Liir after the latter's return to Kiamo Ko. Due to being a flying Animal, Chistery is asked by a dying Swan princess to take her place at a Conference of the Birds that she had called; however, Liir instead decides to take her place.
In the musical
Edit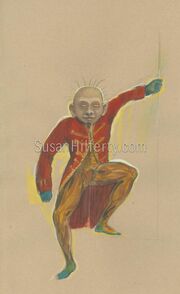 Originally, Chistery is the Wizard's head servant. The Wizard and
Madame Morrible
trick Elphaba into reciting a spell in the Grimmerie which causes Chistery and the other monkeys to sprout unnatural wings, making them efficient scouts for the Wizard's endeavor to abolish intelligent Animals in
Oz
. Elphaba later appeals to the Wizard and convinces him to release Chistery and the others; however, their relationship quickly collapses, and the monkeys side with Elphaba. At one point, Elphaba displays frustration with Chistery when her efforts to teach him how to speak are proving futile. After Elphaba seemingly dies, Chistery hands her keepsake bottle to
Glinda
while stuttering "Miss ... Miss Glinda", signifying Elphaba's legacy.
In the musical he is credited as an ensemble role as opposed to a principal role. In the original Broadway production of the musical he was portrayed by Manuel Herrera, and originally in London by Simon Hardwick.
The monkeys are Elphaba's minions and are always somewhere close by Other performers to take on the role include Phillip Speath, Jonathan Warren and Sam J. Cahn (Broadway), Jonathan Richard Sandler and Mark Shunkey (Broadway/1st National Tour); Peter John Chursin (1st National Tour/Los Angeles); Kristopher Mitchell and Matthew Boulton (London); Gregory Haney (Chicago/2nd National Tour/San Francisco); Ryan Sheppard (Melbourne/Sydney); Matt Jones (Oberhausen); Nuno Azevedo (Scheveningen) and Harrison Clark (UK/Ireland tour).
Portrayers
Edit
Broadway Production
Edit
Mark Shunkey
Manuel Herrera
Raymond Joel Matsamura
Christopher King
Broadway Understudies
Edit
Todd Anderson
Dominic Guidici
Spencer Jones
Kevin Jordan
Jonathan Warren
Kevin Jordan
Brian Wanee