Chistery is the Wizard's and later Elphaba's head flying monkey in Gregory Maguire's novel Wicked, and the subsequent musical of the same name.
Chistery was just a monkey who liked to watch the birds fly in the morning, until the Wizard tricked Elphaba into doing a "levitation" spell. This spelled actually turned out to be a spell that gave Chistery and and the other monkeys wings. (In the musical)
In the novel
Edit
In Gregory Magurie's novel Wicked: The Life and Times of the Wicked Witch of  the West and its sequel, Son of a Witch, the flying monkeys were created by Elphaba as the part of her experiments on the nature of the soul and what distinguishes non-speaking animals from intelligent, speaking Animals.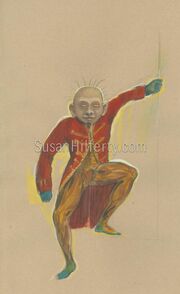 In the musical
Edit
Originally, Chistery is the Wizard's head servant. The Wizard and Madame Morrible trick Elphaba into reciting a spell in the Grimmerie which causes Chistery and the other monkeys to sprout unnatural wings, making them efficient scouts for the Wizard's endeavour to abolish intelligent Animals in Oz. Elphaba later appeals to the  Wizard and convinces him to release Chistery and the others; however, their relationship quickly collapses, and the monkeys side with Elphaba. At one point, Elphaba displays frustration with Chistery when her efforts to teach him how to speak are proving futile. After Elphaba seemingly dies, Chistery hands her keepsake bottle to Glinda while stuttering "Miss ... Miss Glinda", signifying Elphaba's legacy
In the musical he is credited as an ensemble role as opposed to a principal role. In the original Broadway production of the musical he was portrayed by Manuel Herrera, and originally in London by Simon Hardwick. They monkeys are Elphabas minions and are always somewhere close by Other performers to take on the role include Phillip Speath, Jonathan Warren and Sam J. Cahn (Broadway), Jonathan Richard Sandler and Mark Shunkey (Broadway/1st National Tour); Peter John Chursin (1st National Tour/Los Angeles); Kristopher Mitchell and Matthew Boulton (London); Gregory Haney (Chicago/2nd National Tour/San Francisco); Ryan Sheppard (Melbourne/Sydney); Matt Jones (Oberhausen); Nuno Azevedo (Scheveningen) and Harrison Clark (UK/Ireland tour).