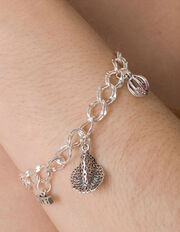 This
Charm Bracelet
is a piece of merchandise one can buy based off the musical
Wicked
. The sterling silver charmed bracelet has three charms: Elphaba's hat, Glinda's bubble encasing two Swarovski crystals, and the Wicked logo, on a 8" adjustable chain with .925 Sterling Silver.
The average rating out of twenty reviews is five stars.
The price of the charm bracelet from The OzDust Boutique: North America is $55.00 and from The OzDust Boutique: London, £25.00.
IMPORTANT: Some customers have reported the rings catching and ripping fabric and falling off and breaking, losing the charm. Have the rings replaced before wearing to ensure charm protection.
Charm Bracelet - The OzDust Boutique: North America
Ad blocker interference detected!
Wikia is a free-to-use site that makes money from advertising. We have a modified experience for viewers using ad blockers

Wikia is not accessible if you've made further modifications. Remove the custom ad blocker rule(s) and the page will load as expected.