Elphaba and Fiyero went to the Bad Lands leaving OZ forever. In one of the Workshops, Elphaba went there after Defying Gravity and there tried to make Animals speak again. Then, at the end, she backed with Fiyero with Doctor Dillamond and some of the monkeys, after Doctor Dillamond spoke: "El-pha-ba".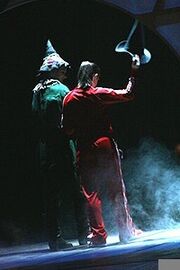 Ad blocker interference detected!
Wikia is a free-to-use site that makes money from advertising. We have a modified experience for viewers using ad blockers

Wikia is not accessible if you've made further modifications. Remove the custom ad blocker rule(s) and the page will load as expected.